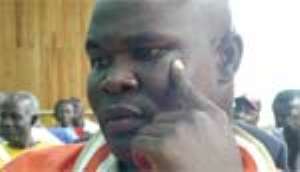 The Ghana Boxing Authority (GBA) Board will meet today to decide the fate of Ghanaian Light Heavyweight, Braimah Kamoko, better known as Bukom Banku.
Sources close to the GBA indicated that last August Bukom Banku was alleged to have a cataract, a disease that causes the eye to become cloudy, which would make him unfit to fight.
The claim was made by Mr Samuel Quaye, a GBA Board member, in a newspaper publication.
Based on Mr Quaye's statement, the GBA was compelled to order a proper examination to be conducted by a medical expert on the boxer before any decision could be made by the GBA.
Investigations conducted by DAILY GUIDE SPORTS revealed that the medical result was released to Bukom Banku and GBA Board members, namely Moses Foh Amoaning, GBA boss; Peter Zwennes, GBA Vice-President; Sammy Captan; Dr Sonne; Peter Andoh, Technical Director, and J.A. Annan.
Bukom Banku and the afore-mentioned GBA members are to meet today to deliberate on the issue and decide on the future of the boxer.
By Pierre Toto