Aliu, Alan swerve NPP executives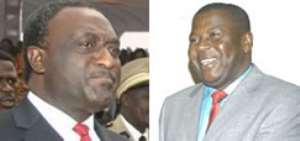 Vice President Aliu Mahama and Alan Kyeremanten have both failed to attend a very important meeting with the New Patriotic Party NPP national executives.
The meeting which was scheduled for Monday night in Accra was meant to discuss and resolve some of the concerns that have characterized the electioneering campaign for falg bearer of the party.
Some of those considered to be front runners in the race failed to attend what observers regarded as a crunch meeting.
Joy News sources say, Aliu Mahama who has raised concerns about his vetting and alleged leakage of confidential information about him did not attend the meeting.
Also absent from the meeting was Alan Kyeremanten who has accused the vetting committee of deliberate attempts to ridicule him publicly.
Another front runner, who failed to attend according to the sources, is Nana Akufo-Addo.
The three however, sent representatives to the meeting.
Party big wigs are tight-lipped on what transpired at the meeting, but sources say top on the agenda was the allegations against the party and its vetting committee, made particularly by Aliu Mahama and Alan Kyerematen.
Party executives wanted the two to substantiate the allegations in order to address them.
According to the sources, deliberations at the meeting were frank and cordial.