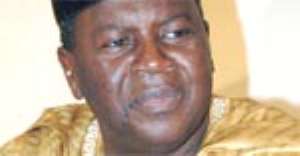 Vice President Alhaji Aliu Mahama took his campaign for the presidential slot of the New Patriotic Party (NPP) to a new level when he joined a pontoon from Yeiju to Salaga to meet would-be delegates of the party.
At the foot of the pontoon were numerous admirers who chanted 'Jama' songs amidst drumming and dancing to welcome the Vice President on board, a scenario which compelled passengers on board to join them register their unflinching support for him.
Alhaji Mahama acknowledged cheers from the teeming crowd and bid them farewell when the pontoon took off to Salaga.
The situation was not different at Salaga, as party faithful rushed to the boat to welcome the Vice President and his entourage to the area.
The visit formed part of the presidential hopeful's five-day tour to the Northern region to market himself ahead of the December 22 Delegates' Congress.
Addressing the chiefs and people of Salaga, the Number Two Citizen affirmed his presidential ambition, and assured Ghanaians of a sound leadership when he becomes president.
Describing himself as a chief apprentice under President Kufuor, Aliu Mahamah said "I now want to be a master", adding that he was the bridge to unite Ghanaians.
He noted that "experience is the best teacher; you cannot find experience in a textbook or buy it with money.
Experience equips a person with the necessary tools to lead".
Responding to the challenges facing the community, Vice President Mahamah assured them of his personal intervention to address their concerns.
In a related development, Alhaji Mahamah had assured the people of Enchi who were affected by the recent rains of government's support to improve their conditions.
The people appealed to him to make good his promises as successive governments had played politics with their needs.
By Sheila Sackey, Yeiji