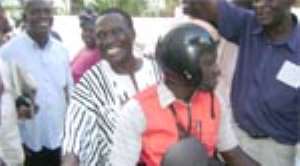 THE CONVENTION People's Party (CPP) bagged ¢1.23billion (GH¢123,000) when nominations for the party's flagbearership and various national positions closed yesterday.
The party was able to raise that money from 34 out of the 36 candidates that picked forms for the various positions and returned them with the specified documentation and filing fees.
For the presidential slot, all the six candidates - Dr. Paa Kwesi Nduom, Prof. Agyeman Badu Akosa, Bright Oblitei Akwetey, Dr. Kwaku Osafo, George Aggudey and Dr. Fred W. Akuffo - each paid GH¢10,000 (¢100million) while three persons, Messrs. Ladi Nylander, Idriss Egala and Dr. Edmund N. Delle paid GH¢5,000 (¢50 million) each to contest the chairmanship of the party.
Those contesting the position of Vice-Chairman paid GH¢3,000 (¢30 million) and they included Eric Baa Nuako, Mad. Araba Bentsi-Enchil, Oteng Anane, Dr. Abu Sakara, Yao Zigah, Kojo Armah and Prof. Nii Noi Dowuona, the current General Secretary of the party.
In contention for General Secretary are Michael Nunoo, Ivor Greenstreet, Ekow Duncan, Abu S. Kumba and Michael Dedey and each of them paid GH¢2,000 (¢20 million), while five persons, namely Mike Eghan, Nii Otu Okunnor, Naa Kordai Assimeh and Dr. Adolph Lutterodt paid GH¢2,000 (¢20 million) for the post of National Treasurer.
The rest are Henry Nii Abossey Thompson, Amankwah Appiah, Nana Kwaku Dumfeh and Evelyn Anabillah, who paid GH¢1,000 (¢10 million) each for the post of National Organiser.
For the position of Women's Organiser, Madam Hajia Hamdatu Haruna and Rosemary Anim paid GH¢2,000 each while Messrs.
James Kwabena Bomfeh, Francis Opai Tetteh and Kofi Baidoo each paid GH¢1,000 (¢10 million) for the post of National Organiser.
The presence of the presidential aspirants and other contestants as well as party supporters at the CPP headquarters brought life back into the party, which is awakening from its 'slumber'.
Dr. Nduom, who could not hide his joy, declared: "The CPP is back!" Submitting his forms, Mr. Bright Akwetey, a prominent lawyer who was ushered into the premises of the party's headquarters by a brass band, declared his readiness to cause a stir at the party's forthcoming delegates' congress.
He called for a level playing field for all, and suggested that any contestant who decides to transport and accommodate delegates at his or her own expense should not be encouraged.
Mr. Akwetey observed that a fair and transparent congress was needed for the growth and sustenance of the party.
He urged delegates to vote according to their conscience, adding that the CPP could set an example of internal democracy, transparency and fairness for other parties to emulate.
Prof. Agyemang Badu Akosa urged voters not to vote "skirt and blouse" in the December 2008 general elections.
He promised to deal with poverty, indiscipline and other social problems in the country.
Prof. Akosa called on the electorate to weed out old politicians who were becoming an impediment to the aspirations of the youth.
Dr. Osafo also called for civil campaigning devoid of any acrimonious attitude from any of the aspirants.
George Aggudey, the defeated flagbearer of the party in the last general elections was also there to submit his forms.
In a press conference to brief the media on developments in the party, Prof. Dowuona said the list of candidates would be submitted to the Central Committee of the party which would then constitute a vetting committee to assess all aspirants.
By Wisdom Peter Awuku