June 28, 2007
|
General News
Dr Ben Abdallah Stood By His Values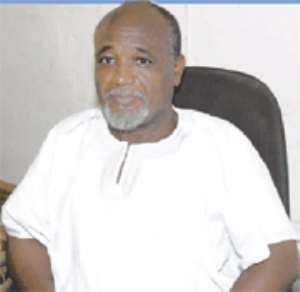 Dr Mohammed Ben Abdallah was born into a typical Muslim family at Kumasi Zongo and his father was ridiculed by friends and relatives for taking his children to school.
He said he grew up at a time when Muslims were suspicious of secular education as they thought it would sway their children from the Islamic faith. But his father was undaunted.
Going to school, however, meant extra work for Young Mohammed. He had to attend secular school as well as "Makaranta" (the traditional Islamic school). So far as his family was concerned, Makaranta was a priority. At that time, an Islamic cleric from Timbuktu, Mali had come to their house as a guest, and he was specially assigned to teach him the Holy Qur'an.
He said the scholar used to wake him up as early as 4:00 am and write some verses from the Qur'an for him to memorise. After the morning prayers at 5:00 am, Young Mohammed could go to school only after he had been able to recite all that he had to memorise.
However, through hard work and perseverance, Dr Mohammed Ben Abdallah, has become a force to reckon with, particularly in the field of theatre in Ghana, Africa and the world at large. Almost all his plays have been enacted on stage at the Efua Sutherland Drama Studio at the University of Ghana, Legon, and across the continent.
Dr Abdallah recollected that two weeks after he wrote the Common Entrance Examination, he lost his father and after the funeral, he was advised by the family to forget education and not bother himself to check his results, as there was no money to take care of him.
"Those were very hard times, my daughter," he said, addressing the Junior Graphic reporter during an interview. "I think children of today should never listen to people when they tell them that they cannot make it. No one has that right over your life. It doesn't matter the colour of your skin or where you come from; you can always become what you make up your mind to be," he advised.
Fortunately for Dr Abdallah, a few months later, his uncle Hussein Abdallah, who became the first Ghana Broadcasting Corporation (GBC) broadcaster in Hausa language, came for him and his brothers to live at Nima, a suburb of Accra. He, however, left his sisters in Kumasi.
He said by the time they came to Accra, admissions were already over and his uncle, who was bent on educating his nephews, sent him to the St. John's Grammar School, then at Kokomlemle, in Accra.
The school was then a private second-cycle institution owned by a certain J.H. Mensah (not the renowned politician). Young Abdallah, who was 15 by then, used to walk all the way from Nima to school at Kokomlemle because his uncle couldn't afford to pay his boarding fees.
"Life at St John's Grammar was very difficult. For a year, I was always at home because of my school fees. In order to keep pace with the rest of my colleagues, I would sometimes sneak into the school when classes were over and copy notes from friends," he said.
"But it never affected my performance in school as I always made sure I studied to catch up with them," he said with a grin.
Around the same time, the drama troupe of his school was rehearsing Shakespeare's play, 'Macbeth' to mark the school's Speech and Prize-giving Day and he was playing the lead role, Macbeth.
Though he was not attending classes, he was attending rehearsals. He said he was very much inspired by Miss Urrei, a Scottish teacher, who was their instructor.
He said Kofi Acquaah-Harrison played Banquo and Cyril Acolatse, formerly of GBC, played Mcduff.
According to him, the play went so well that when the Headmaster, Mr Mensah, was addressing parents at the ceremony, he asked the young man who acted as Macbeth to step forward. Young Abdallah, who was still in his costume, was, however, shivering.
He said he was afraid to step forward for fear of being exposed as owing school fees, but when he finally stepped forward, the headmaster announced that as a result of his splendid performance in the play, he had been awarded a full scholarship by the school.
His joy knew no bounds at the time. He was asked to go back to the house and pack bag and baggage to the school as a boarder in Form Three.
That saved him and ended his pain. Since then, he said he'd seen the theatre as a saviour and that also sealed his passion for that field.
Dr Abdallah then went to the School of Music, Drama and Dance (now known as the School of Performing Arts) of the University of Ghana, Legon, to pursue a course in Theatre Arts, costume designing and scenery.
In 1972, when he was in his final year, he wrote his first book, The slaves, which was nominated for a competition in America.
It won the contest and became the first book from Africa to achieve that feat. From there, he went for his postgraduate course on a University of Ghana scholarship at the University of Georgia in the United States.
He later studied for his PhD at the University of Texas.
Dr Abdallah became the head of the Theatre Arts Department of the School of Performing Arts briefly, around 2003.
Though retired now at 63, he is on contract as part-time lecturer at the School of Performing Arts and is a senior lecturer at the University of Cape Coast, where he is assisting to set up its Theatre Arts Department.
A sociable, but reserved person, Dr Ben Abdallah said he could easily have gone the wrong way, being brought up at Kumasi Zongo and Nima, but was guided by principles and was disciplined.
He said almost all his friends smoked Indian hemp (wee). He recollected that when they went to play football, 'wee' would be passed round for anyone who cared to smoke, but it never occurred to him to try it.
When people asked him how come he never smoked, he would jokingly reply "They've smoked it all for me".
Dr Abdallah has written several plays. Those for children are Ananse and the golden drum and Ananse and the rain god.
Among some of his known plays which are part of the Theatre Classics at the National Theatre to mark the Ghana @ 50 celebrations are The Slaves, The trail of Mallam Ilya, The Alien King, The Verdict of the cobra, "The fall of Kumbi and The witch of Mopti.
He is married to Akosua Amponsah Abdallah and they have four children.
Story by Fanny Nana Ampon