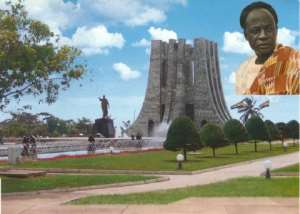 It was the wish of the late Fathia Nkrumah, wife of Ghana's First President, Dr Kwame Nkrumah to be buried next to her husband.
Gamel Nkrumah, first son of the late Madam Fathia has said in a telephone interview that: "My mother wished she was buried in Ghana, next to her husband at the Kwame Nkrumah Mausoleum in Accra.
"She loved Ghana so much and wanted her burial to serve as a symbol of unifying the nation"
"She wanted it to be a time for healing the wounds of the past and forge ahead in unity as a nation," he said.
Gamel said his mother's courage, which saw her standing by Dr Nkrumah in the face of assassination attempts on his life and taking all her sufferings in her strides is an aspiration to them the children.
"Her love for Ghana should be a mobilising factor for the unity of the country," Gamel stated.
He confirmed that President Kufuor had directed that a state burial be accorded his mother.
Gamel said the family was still in talks with the government and was hopeful that in the next couple of days, an agreement would be reached as to when Madam Fathia's body will be flown to Ghana.
He said Fathia's brother, Fekry Halim Ritzk, 80, together with Samia, the only daughter of Madam Fathia and himself would accompany the body to Ghana.
Madam Fathia died last Tuesday at the Nile Badrawi hospital in Cairo after a protracted illness. She was 75.