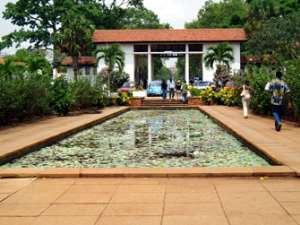 The University of Ghana has secured a ¢260 billion loan from a consortium of banks for the construction of a 7,100-bed facility.
The project begins this year and part of efforts to resolve the acute campus accommodation faced by the University.
The Vice-Chancellor of university, Professor C.N.B. Tagoe, who disclosed this in an interview with the Daily Graphic on Monday, said the facility was expected to be completed within three years.
"We anticipate it won't be long before the accommodation issue becomes a thing of the past," he said, and added that the money was internally generated from a consortium of banks, led by Cal Bank and Fidelity Bank.
He explained that advertisement for the award of contracts would soon be placed in the press and that as and when the blocks were completed, students would move into them.
Prof Tagoe said the rates and charges would not be different from what pertained on campus currently.
The issue of providing accommodation for students on the Legon campus has created tension in recent times as the university authorities seek to implement the In-Out-Out-Out residential policy which provides accommodation for only first-year students from the next academic year.
Students embarked on demonstrations to protest against the new policy and asked for it to be reviewed to give final-year stu¬dents accommodation on campus.
In the course of the agitation over the policy, some of the students threatened to disrupt the second semester examinations if the policy was not reversed. They went ahead to "shit bomb" three examination centres, thereby forcing the postponement of the papers scheduled to be written at those centres.
Others also issued death threats to some lecturers for being what they described as allies of the university management.
Professor Tagoe said the In-Out-Out-Out residential arrangement was introduced to alleviate the suffering of freshmen and women and that apart from accommodating the disabled, sportsmen and women, medical students and student leaders, some final-year students would also be given accommodation on campus.
According to him, the university was trying to equalise facilities in students' numbers and that not more than 5,000 students would be admitted to the main campus of the university during the 2007/2008 academic year.
He said the issue of accommodation, which had been associated with the inadequacy of facilities, had been a problem for nearly two decades and that both academic and residential facilities were being tackled vigorously.

Prof Tagoe indicated that academic facilities had been supported by the Ghana Education Trust Fund (GETFund) which, in the past five years, had supported science-based subjects to the tune of ¢75 billion.
Source: Daily Graphic