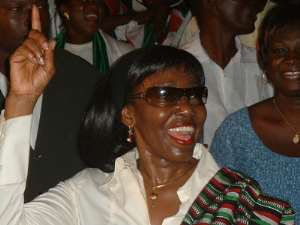 The 31st December Women's Movement has pledged to work within the confines of the law for the development of the nation.
A statement issued to mark the 25th anniversary of the Movement said: "The 31st December Women's Movement will work with all government institutions, departments and agencies in our collective quest for freedom, justice, fair play and improved standards, irrespective of which political party is in power."
The Movement, led by former First Lady, Nana Konadu Agyeman Rawlings, recounted its activities saying it has been "engaged tirelessly to encompass in totality the woman's life-politically, economically, culturally, legally and intellectually".
The statement said it had more than 1,000 early childhood development centres across the country to offer pre-school training for children while their mothers went about their economic activities and established hundreds of self-financing and self-sustaining projects for women.
It said: "These projects, which are mostly in the rural areas, have been a challenge to women to identify their own needs, establish their priorities and supplement their household budgets."
These include vegetable cultivation, cloth weaving, pottery, batik making, bakery, gari processing, kenkey production, fish smoking, beekeeping, soap making, tree planting and micro-credit facilities.
The Movement also said it had spearheaded advocacy for laws to support women, including Intestate Succession and Marriage and Divorce Registration laws, helped in construction of boreholes in 26 guinea worm infested areas and initiated a programme under which the International Atomic Energy Agency built three radiotherapy centres at Korle Bu Teaching Hospital, Komfo Anokye Teaching Hospital and Tamale Hospital.
The Movement said it had mobilised funds for projects and listed international organisations and donor agencies that gave a helping hand as United Nations Development Programme, UN Fund for Population Activities, African Development Bank, International Fund for Agricultural Development and Sasakawa Fund.
The statement said the Movement would work to remodel its internal structures and reinforce its external collaborations and sustain its work towards the realisation of goals of the Beijing Platform of Action and the African Charter for Women's Emancipation.
"Our approach to rural development is holistic, multi-sectoral and focused on improving the wellbeing of rural people, social and environmental assets. For this reason we will continue to dialogue with donors to support initiatives that will improve the living standards of rural communities that will create a sense of ownership for them to eradicate poverty."
The Movement noted that the work for development and emancipation of women in the country and Africa was too large and important to be left to governments alone.
It urged civil society organisations to come together to form solid partnership in order to move the gains of the past years forward, saying "we cannot afford to backslide".
"The Movement will continue to deliberate on 'policy issues' that affect women and develop pragmatic and long-term solutions to them," it said.
Source: GNA