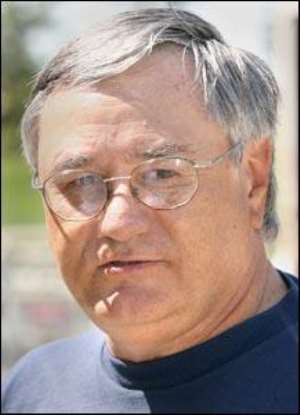 Dennis Cryer
CEDAR FALLS --- Seven students will board a plane Sunday to fly from New York to Ghana to try to eliminate a parasitic worm.
The Global Health Corps out of the University of Northern Iowa is partnering with the Carter Center in attempts to rid the world of the Guinea worm.
The UNI students will work on an education project that is intended to help villagers in remote parts of Ghana better treat water and avoid the Guinea worm.
The Guinea worm infects humans who drink stagnant water that hosts the worm larvae. The worm grows in the person's abdomen to lengths of three feet. The infected person may not even know he or she has the worm for a year or more.
Later, the worm will try to exit the person's body through a very painful blister it forms on the skin. The exit process can be very lengthy, taking weeks or months, and is painful. Some will try to pull the worm out and ultimately cause infections. Many of those who have the Guinea worm seek relief in water, thus recontaminating the drinking water.
Safely filtering drinking water can eliminate the Guinea worm problem.
The worm has been eradicated from much of the world, but continues on in several countries in Africa. It is most common in the Sudan, where an ongoing civil war has made it difficult to get health groups in to educate about the disease.
"It's been an ongoing 20-year project by the Carter foundation in Atlanta," UNI associate professor of health promotion Dennis Cryer said of eradication efforts. Cryer will be accompanying the group to Ghana.
The UNI students will stay at the University of Cape Coast.
Most of the Guinea worm cases in Ghana are in remote northern provinces. With those residents speaking many different dialects, communication can be difficult. Cryer said they will educate Ghanaian students to go back and teach people from their own villages.
"The ultimate goal is to have Ghanaians train Ghanaians," Cryer said.
The UNI students will work with Ghanaian students from affected areas. Those students would be expected to go back and do training in their villages during breaks from school.
One of the UNI students, Megan Tiernan, has been in contact with Lindsey Fabel, another UNI student who has already been in Ghana for four months.
"She said it's pretty sad conditions," Tiernan said of the villages. "There's a lot of malnourishment."
Tiernan's parents came to UNI Friday to see her off.
"They're a little skeptical, a little nervous, but they know it will help me in what I want to do," Tiernan said.
Most of the students will return May 23. However, Ashlynn Christianson will stay in Ghana until the end of July on an internship.
Another, ShanQuisha Robinson, will travel to Gambia after the Ghana trip for another internship in which she will do research on women's health issues.