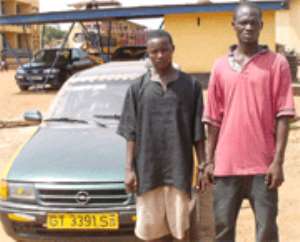 Two suspected armed robbers who are believed to be part of an armed robbery gang operating in Accra have been arrested by the Tesano police for stealing a car.
The suspects, Kwame Asare, 27, and Kojo Nketia, 23, a street hawker, conspired to steal an Opel Astra taxi with registration number GT 3391 S and drove it to Kumasi on the 5th of this month with the intention to sell it.
Narrating the incident to the Daily Graphic in Accra yesterday, the Tesano District Police Commander, Deputy Superintendent of Police (DSP) Philip Kwesi Dugah, said the owner of the car, Mr Bernard Inkoom, together with his driver Ebenezer Appiah, parked the car at Akweteman a suburb of Accra, at the close of work each day.
He said on May 5, 2007 around 2 a.m. the driver parked the vehicle at its usual place and the suspects stole it to Kumasi and then contracted to sell the car to a Kumasi-based dealer.
DSP Dugah said the car dealer who apparently knew the car was stolen reported the suspects to the Kumasi police and offered to buy it at ¢15 million on condition that documents to the vehicle would be provided.
He said the suspects insisted they were selling it at ¢20 million and in the course of bargaining, they were arrested by the Kumasi police.
He said the suspects were brought to the Tema police station in Accra where the case was earlier reported.
According to the DSP, the suspects upon questioning, confessed to the crime. He said the two suspects would soon be arraigned.
DSP Dugah issued a warning to armed robbers in the country that the Police Administration had intensified its crime patrol exercise and would be ruthless with them when caught.
Story by Sebastian Syme