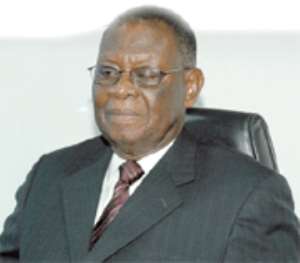 As a boy growing up in the neighbourhood of Korle Gonno, Accra, Saka was so inquisitive about the traditions of his people that anytime his father attended traditional functions such as outdooring and marriage or enstoolment ceremonies, he accompanied him.
It was during such functions that he learnt about dances and the songs of his people, the Gas. His desire to know more about the traditions of the Ga people caught the attention of his colleagues at Achimota School, where he had his secondary school and teacher training education.
He was made the head of the Ga group of the school in 1949. That leadership role gave him the opportunity to educate some of the students on the traditions and culture of the Gas through organised plays, dances and talks.
Later in life, while working at the Bank of Ghana, he was persuaded to go and explain financial policies in the Ga language at the Convention People's Party (CPP) Ward level in Accra.
In the early 1970, he was very active in the Ga Youth Association which supported the administration of the late Nii Amugi.
Even now as the Board Chairman of Prudential Bank Limited, Mr John Saka Addo, popularly known as J.S. Addo, has not forgotten his people. His non-governmental organisation, Old Accra Conservation and Development Association (OACADA) is very much involved in the renovation of heritage sites in Accra including buildings such as the Ussher Fort Prison and the Brazil House.
Mr J.S. Addo's contribution to the development of the Gas was once again recognised when in 2005, he was elected unopposed, to represent the people of the Greater Accra Region on the Council of State.
His contributions to development have benefited many people, not only the Gas. In the banking sector especially, he is recognised as one of the major role models.
He is a former Deputy Governor and later, Governor of the Bank of Ghana from 1983 to 1987. His consultancy firm, J.S. Addo Consultants Limited, did the study for the establishment of Ecobank Ghana and this is how he became the first Chairman of that Bank.
He is also a former Managing Director and Chairman of National Investment Bank (NIB).
A member of the Sempe Clan of Accra, Mr J.S. Addo was born at Korle Gonno to the late Mr Thomas Kpakpo Addo and Mrs Emelia Okaikor Addo (nee Mensah of James Town).
The last of four children, his parents doted on him but according to him, he never took advantage of that to misbehave. He made sure his household chores which included cleaning, sweeping and fetching water were done diligently.
Coming from a family where education was taken seriously, he did not take his education for granted. "I did not joke with my studies. I wanted to be on top of my class always."
Mr J.S. Addo recalled that in those days there was no electricity in the house and knowing very well that in the evenings he might not have a lantern to himself for his studies, after school everyday, he went to the Korle Gonno Beach, which was not far away from home, to study.
He recalled that he normally sat in the shade of coconut trees, "did all my homework and studies before going home."
Young Saka Addo had his primary education at Accra Royal School, Korle Gonno. Right from Class One, he was fortunate enough to have teachers who liked him and so took keen interest in his education.
That encouraged him to study hard. He was promoted to Class Three from Class One, as a result, "I tried to be the first or with the first and when I did not do well in class, I felt bad," he added.
Living along the coast, it could be easily assumed that young Saka would spend most of his time playing at the beach just like the other children did. But no, young Saka Addo did not do that because he was advised against going there to play by his parents for fear that he would drown.
However, "occasionally at weekends, when there was a chance, I joined the fishermen to draw their nets." For his efforts, sometimes he and his friends received fresh fish from the fishermen.
Young Saka Addo started Standard One in 1939 at Accra Royal School's Annex at James Town. It was there that he wrote an entrance examination and gained admission to Accra Academy.
Later in the same year, three of them in the same class were selected to write an entrance examination to Achimota School and from the results of that examination he was awarded a six-year scholarship tenable at Achimota School.
Subsequently, he did four years secondary education and two years teacher training at Achimota School and the then Achimota Training College respectively. Besides his books, J.S. Addo was also involved in sporting activities such as soccer, hockey and cricket for his house, Cadbury.
It was while he was at Achimota School that the 1948 riots started but according to him, students of the school refused to join in the action although they were enticed to do so. He said "I did not know how my fees would have been paid if we had joined the strike and consequently been sacked like some of our colleagues in Adisadel College and St Augustine's College who joined."
After Achimota Teacher Training College, Mr Saka Addo taught at Accra Royal School for four months in 1951. In January 1952 he was invited by the late Mr Attoh Okine, a former teacher at Achimota School to assist him establish a new secondary school at Dormaa Ahenkro in the Brong Ahafo Region.
He was there from 1952 to 1953 teaching English and Mathematics before he left for further studies at the University of Ghana, Legon after writing an entrance examination. He read Economics and graduated in 1958.
He was employed at the Bank of Ghana as a Probationary Officer (i.e. officer trainee) for two years. He rose through the ranks to become Deputy Governor from 1968 to 1973 then later Governor from 1983 to 1987.
He and two colleagues from the National Investment Bank founded the Prudential Bank Limited nearly eleven years ago and he has since been Chairman of the Bank.
Hon J.S. Addo is married to Mrs Ida Amatechoe Addo (nee Laryea) and they have four children.
Story by Augustina Tawiah