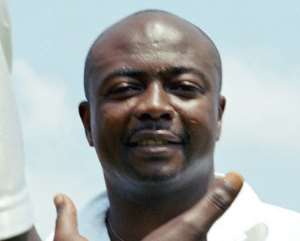 KANNUR, India : Goalkeeper Kassim Tahiru turned out to be the hero for Nania FC, Ghana as it edged out Iran XI 5-4 via tie-breaker in the semifinals of the E.K. Nayanar Memorial Gold Cup international football tournament at the Municipal Jawahar Stadium here on Saturday.
The teams were level 1-1 at the end of regular time and according to the rules of the tournament, the tie-breaker was taken to decide the winner.
Tahiru saved shots taken by Mostafa Sanobari and Hamid Jafari in the tie-breaker to see his side through to the final.
Heavy rain played spoilsport and prevented the teams from going all-out. Nevertheless the contest was exciting with the Ghanians showing better adaptability to conditions and nearly pulled out a win.
They created more chances and even had a goal disallowed for off-side during regular time.
After a goalless first half, Nartey Ebenezer enlivened the proceedings by scoring in the 49th minute. But Mostafa Sanobari equalised for Iran in the 71st minute with a brilliant 30-yard free-kick.
Missed chances
Natery Ebenezer was the villain in the first half as the striker made a mess of at least two clear chances. The striker on both occasions couldn't reach the crosses send to him by Kofi Rahim Ayew and Babamu Yusif.
The Iranians too had their moments in the first half. Naser Shridel probably missed the easiest of the chances in the 30th minute.
A free kick by Hashem beat goalkeeper Tahriu who came charging out and failed to collect it. The ball came to Naser who failed to head the ball and wasted a good chance. He again headed out from close off a corner in the 35th minute.
The Ghanians went ahead in the 49th minute. The spadework for the goal was done by Ayew, who tore down the right flank, and squared the ball to Charles Boating.
The midfielder sent Nartey Ebenezer through with a good pass and the striker had no difficulty in beating the goalkeeper.
Ghanians kept up the pressure but Iranian found the equaliser against the run of play. In the 71st minute Iran earned a free-kick which was brilliantly converted by Mostafa Sanobari. Iranians slowed down the proceeding but the Ghanians went all-out for a win.
Nartery headed in a free-kick taken by Ayew but the goal was disallowed as Nartey was ruled as off-side.
Towards the end, Iranian goalkeeper Majid Ghadimi came out of his guard to deny Ayew.
In the tie-breaker, Kofi Rahim Ayew, Addy Kahlil, Babamu Yusif and Abdul Razak scored for Nania while Hossein Yousufi, Hashem Heidari and Nsaer Shridel converted their attempts for Iran.