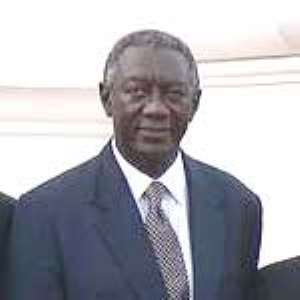 Ghana and China amidst growing bilateral, technical and economic co-operation, yesterday, signed six major agreements.
These included the construction of the Bui Hydro-Electric Dam, a concessionary loan of 30 million dollars for the implementation of a dedicated communication system for the security agencies and the cancellation of 24 million dollars of debt owed China.
The others were an Economic and Technical Co-operation grant, Tourism promotion and a feasibility study on the construction of a new office building for the Ministry of Foreign Affairs.
President John Agyekum Kufuor and the visiting Chairman of the National Standing Committee of the Chinese Peoples Political Consultative Congress, Mr Jia Quiglin, witnessed the signing of the agreements at the Castle, Osu.
Mr Jia was at the head of a large Chinese delegation on a three-day visit, at the invitation of Ghana's Parliament, to help deepen the friendship and practical co-operation between the two countries. China, an emerging economic giant, is ranked third, in terms of investment inflows into Ghana.
President Kufuor applauded the positive and friendly relations between the two nations, which had existed for almost 50 years and said Ghana was determined to build on this. "We are totally committed to developing the relations with your country for the mutual benefit of the peoples of Ghana and China and the peace of the world."
He also re-affirmed Ghana's adherence to the "One China policy", with Beijing as its capital, something, Mr Jia, described as "a core issue dear to China." Ghana, President Kufuor said valued its relations with China and expressed joy at the agreements concluded between them.
Mr Jia, who spoke of the need for the two countries to continue to maintain regular high level contacts said the Chinese Government would do everything possible to actively support the successful implementation of the Bui Hydro-electric Project.
Additionally, it would work closely with Ghana, which is both a member of the United Nations (UN) Security Council and Chairman of African Union (AU) towards global peace and security.
He conveyed his country's gratefulness to Ghana for its support for China's unification with Taiwan, saying, "Sovereignty and territorial integrity is a core issue, dear to China."
The six agreements reached between the countries followed discussions held between President Kufuor and the Chinese leaders on the sidelines of the China-Africa Forum held in Beijing in November, last year.