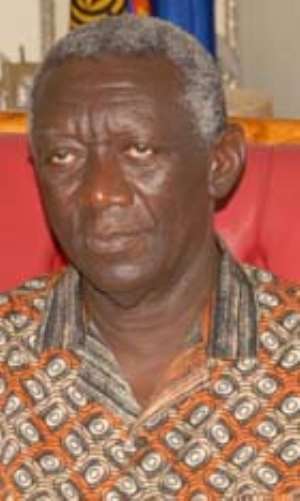 President J.A. Kufuor has asked the Cadbury Schweppes International, a confectionery and beverage company, to set up a manufacturing company in Ghana to produce new brands of chocolate for the international market.
He observed that Cadbury used to be a household name in the country but reduced its business activities for some time.
Receiving a delegation from Cadbury Schweppes International at the Castle, Osu, yesterday, President Kufuor was gratified that the company had decided to step up its business operations in the country, particularly at the time the company was celebrating its centenary.
He said the government would like to associate itself with projects such as the construction of boreholes and the manufacture of a new brand of chocolate to be called "Bean to the Bar", which had been outlined by the company for the centenary celebrations.
President Kufuor was hopeful that the new brand could be manufactured in the country, instead of outside.
Earlier, Mr Andrew Baker, the Regional Managing Director of Cadbury Schweppes International for Africa, the Middle East and Turkey, said the company would be 100 years in 2008 and had programmed a number of activities to celebrate the occasion.
He said the company intended to drill a borehole a day to improve the supply of potable water to many Ghanaian communities in 2008 as part of the centenary celebration.
Already, the company has provided 400 boreholes for a number of villages in the country over the last three years.
It also intends to build a strong heritage in the educational sector.
Mr Baker said the company had enjoyed a rich and fulfilling relationship in Ghana, adding that the centenary celebration would be used as an occasion to re-confirm its commitment to the development of the country.
Story By Nehemia Owusu Achiaw