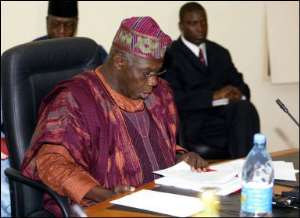 National Democratic Congress of Ghana Calls on President Kufuor (AU Chairman) To Call President Obasandjo To Order In the Matter of the Purported Disqualification of Vice-President Atiku Abubakar.
The National Democratic Congress has learnt with dismay the last minute declaration by President Olusegum Obasanjo of the 12th and 13th April, 2007 as public holidays in Nigeria , ostensibly to allow citizens the opportunity to travel home for the purpose of voting during the current national elections. Plausible as the explanation for the action may seem on the surface, no follower of contemporary Nigerian domestic politics can be deceived by its real intention of preventing one individual, Vice-President Atiku Abubakar, from having timeous access to the law courts in the matter of his earlier capricious disqualification from standing as a Presidential candidate.
The National Democratic Congress is especially astounded by this unwelcome turn of events because President Olusegun Obasanjo has been internationally acclaimed as the uncompromising icon of Africa 's quest for democracy and good governance.
The NDC wishes to call into question this undoubted political chicanery because it flies in the face of the democratic culture that Nigeria and other African countries, Ghana included, are struggling to establish in Africa , particularly at this time.
In the light of the above, the National Democratic Congress is calling on President John Agyekum Kufuor of Ghana , the Chairman of the African Union to publicly denounce this unwelcome turn of events in Nigeria with the same alacrity that he recently condemned president Robert Mugabe of Zimbabwe .
Unless such glaring and mischievous actions are strongly suppressed in Africa , our infant democracy stands the chance of again being trampled underfoot by dictators and enlightened despots.
In the attempt to inculcate the traditions of the rule of law, equal rights and opportunity, as well as the holding of free and fair elections, the NDC considers it paramount that each candidate in the Nigerian general elections is allowed the fullest opportunity to seek whatever political office the constitution qualifies him or her for. It is in this belief that the NDC has been compelled to publicly disapprove of the less than honourable series of actions taken recently by the Administration of President Obasanjo to prevent Vice-President Atiku from competing in the current Nigerian elections. In the NDC's considered view they constitute victimization and must therefore be exposed as such.
Finally, the National Democratic Congress wishes to also appeal to all African Governments, political leaders and political parties to also speak out immediately on this matter in the spirit of the much ascertained Peer Review Mechanism which our continental organization is closely attached to.
It is time for all true lovers of democracy to standup and be counted and we hope President Obasanjo and the African Union will not let Africa down.
Signed:
Hon. John Mahama
(Director Of Communications)