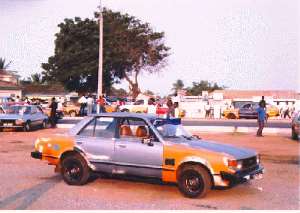 Only those who can read and write will be given a driver's license in the country with effect from next year.
And for illiterates who are already driving, they will not have their licenses renewed after 2008.
The move is to ensure that all drivers in the country can understand rules and regulations easily and also undertake the Vehicle and Driver Licensing Authority examinations without any assistance.
The officer in charge of the Western and Central Regional Offices of the Ghana National Road Safety Commission, Thomas Bismarck Boakye who stated this said education on the issue began some years ago.
He was speaking at the launch of the Donewell Insurance Company's Road Safety Campaign and Best Drivers Awards campaign in Cape Coast on Tuesday.
He said the NRSC and the DVLA would work to ensure that accidents were reduced to the barest minimum.
He said although accidents had reduced significantly in the country there was still room for improvement.
Currently, Mr Boakye said going by the 2006 statistics there were 19 deaths per 10,000 passengers adding that the goal was too reduce the figure to a single digit.
He stated that in the Central Region the number of deaths in accidents reduced from 180 in 2005 to 130 in 2006.
That, he said was due to various measures that had been taken including the provision of ambulances on accident-prone roads and increasing the number of police personnel at checkpoints.
The Central Regional Head of the DVLA, Thomas Nintori touching on the same issue said drivers controlled human lives and it was important that all those who were given driver's licenses were capable people.
He advised drivers to ensure that their vehicles were maintained to help prevent accidents.
He also urged them to avoid overtaking, speeding and drunk driving.
A Marketing Officer at the Cape Coast office of Donewell Insurance, Dennis Badu Acquah noted that the role of drivers in the nation's economic growth could not be down played.
Mr Nintori said the spate of road accidents in the country was of great concern too all and that Donewell as part of its corporate social responsibility found it necessary to complement efforts by all stake holders to stem the spate of accidents in the country.
He expressed the hope that drivers would be motivated by the awards to give their best.
Source: Daily Graphic