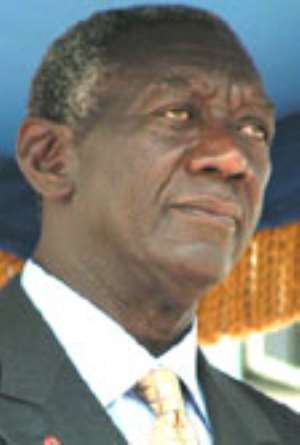 AS I turned on the television at home very early the morning of February 6, 2007, it was a popular pretty faced female Ghanaian Broadcaster, directing a programme on which another lady and a gentleman were the other participants, and both guests were believed to be Journalists.
The topic once again was about patriotism and criticism, and "criticism" had a qualifying word in front of it, and the word was the adjective, "negative", hence you got "negative criticism", as a working phrase, and topic of the day as well. As it turned out, my attempt to tune in somewhere else turned out fruitless technically, as is often the case, so I was forced to "stay tuned" just where I had tuned in initially. Negative criticism, -it lingered on and on and on, all as part of the national feeling towards the national 50th Birthday.
Most people voicing their opinion differently from what could be seen as not towing along the mainstream, would fall into the group that would be deemed as "negative critics." In retrospect, I do not regret I stayed right there on that programme. I heard a lot more than I knew already -"national dislike for criticism".
FORMATIVE YEARS
I would like to appeal to anybody younger than me, (and most Ghanaians would be), to bear with me all along my argument in this exercise, even if it may turn arduous. My formative years were spent in Europe, and in post World War II, the country where there was most action was called West Germany. It probably wasn't happenstance that I was in that country, but with that I happened to witness most of the action live, and "I had a ball", if you will. Spain and Portugal were two countries that still lived under dictators. In Italy, Governments were changed almost on weekly basis, and the Communist Party there was vibrant. The Coliseum, the Soviet Union, (a conglomerate of 15 Republics), held seven former sovereign European states under coercion. In China, the effect of Chairman Mao's long march which defeated the Nationalist Chinese, (Kuomintang) was still fresh in the minds of Chinese people as well as in the West, and " Africa loved it!" It was an awfully dynamic world, and there was a lot of reportage, and not much was palatable, or in our parlance of today, "not much of positive criticism".
A friend of mine who walked into a Bank in Frankfurt, looking for a loan to purchase a private vehicle then was turned down.
The bank manager's argument was that, "Korean nationals were being kidnapped nakedly in the streets of West Germany, by agents of the military dictatorship at home in South Korea. How could the poor bank manager guarantee anybody? Wouldn't his African applicant be the next victim of kidnapping, this time by agents of African dictators? " A Columbian migrant worker in a factory in a little village near Berlin was sacked by his German boss, because, the German Ambassador to Columbia had been kidnapped, and his bullet-riddled corpse was found the next day on a country-side high-way. Vietnam was entangled in a devastating civil war, and America was in alliance with them. Laos was in trouble too, and even though Ferdinand Marcos in nearby Philippines had a stranglehold on his folk, the economy grew from bad to worse on daily basis.
In Northern Ireland, the IRA is believed to have been behind the kidnapping of the CEO of the German Electronics Giant, Gruendig. His body was never found, and ten years later, he was statutorily declared dead, so his widow could marry again, if she so desired. The events hated any ending; seventy black South African school children demonstrating against the Apartheid Regime were gunned down in Soweto, in South Africa one day, but on the same day, Prof. Christian Barnard completed his tenth successful human heart transplantation in a Cape Town hospital, (the good reportage). General Yakubu Gowon was overthrown in Lagos at dawn one day, whilst on a foreign mission. But, before his overthrow, the same Sandhurst trained Nigerian Army General was quoted to have mooted, "in Nigeria today, it's not a question of money, but how to spend it." A British Daily, commenting on it simply wrote, " Nigeria is so rich, and it hurts."
FREEDOM AND JUSTICE
The inscription in our national emblem says, "Freedom and Justice." I have convinced myself by believing that, not even in the decades of Dictatorship did anybody among the mighty Generals pluck the courage to remove or change these words. They stand supreme till today -Freedom and Justice.
In the 17th Century, a famed French Philosopher once said, "I detest what you say, but I would defend with my last breath, your right to say it." (Francois Marie Arout Voltaire, 1694-1778)) The African/World political giant, Nelson Mandela said, "The South Africa that I am talking about, should have a place for people of all races. This is something I strongly believe in, and I am prepared to die for, if need be." (His treason trial in 1961).
Our own Founder and Grandpa Osagyefo Dr. Kwame Nkrumah: "The independence of Ghana would be meaningless, except it were linked with it, the total liberation of Africa." (Independence speech, 1957). "The Black Man is capable of managing his own affairs", (Kwame Nkrumah of Africa, AD 1909-1972).
In all religions, and at all times, we read examples of high prices being paid, including losing one's life, for daring statements that don't regale men and women in power, or authority, (John the Baptist's execution). "I have a dream… I have a dream today, that my four children one day will not be judged by the coloUr of their skin, but by their character. And yes… I have a dream today…" Rev. Dr. Martin Luther King Jr., the powerful Civil Rights Activist, who at the tender age of forty, was assassinated in Memphis, Tennessee, in 1968. He was however awarded the Nobel Prize for Peace, on that speech, ("I have a dream"), prior to his assassination.
In Islam, it is regarded as a sin, if a believer saw something, which required to be redressed, but kept quiet about it. The example of John the Baptist's plight demonstrates this is true in Christianity too.
Neither is Buddhism spared in this aspect. The story of the Chinese hero, Kozinga, who millennia after Socrates suffered the same fate, is in that line, and it doesn't complete the list either.
NEGATIVE REPORTAGE
So, what is negative reportage in our context? If a man was admitted into a hospital, and he was discharged not having slept on a blanket or a pillow for ten days, it would be seen as negative reportage, if he chose any media organ, and told the community about his ordeal. Negative reportages were the hallmarks of what was once called the Cold War. For the capitalists, communism was dirty. The communists saw capitalism as even dirtier. Jokes abound, and here is one of them: An American Diplomat has an encounter with his Soviet counterpart in a Washington Night Club. As the night wears on, and moods lighten, the American Diplomat throws it across to his Soviet counterpart. "Hey, America is the freest spot on earth, my friend. You can walk to the White House in Pennsylvania Avenue, and yell, President John Kennedy is crazy, and nothing will happen to you". The Soviet, who failed to recognize anything extra-ordinary in the jibe from his American colleague retorted, "Come on, you can equally walk to the Red Square in Moscow and scream, Kennedy is crazy, and you walk, at worst, a hero."
There was so much of negativity to talk about in the lives of millions of people living in different parts of the World for decades following World War II.
Africa was a very special case in point. Development aid failed to have the impact comparable with the Marshall Plan, which pulled Europe out of poverty, and with it, out of Dictatorship, (an American package), mind you.
It made headlines for decades, when the wife of an African Cabinet Minister was said to have purchased a golden bed, whilst on a shopping spree at Harrods in London, with funds which Europeans saw as coming from taxes paid to their Governments, and given as Development Aid to Africa. When a British Cabinet Minister is found to have fathered his secretary's child, it kindles a scandal that forces even a strong-willed Head of Government to ask the Minister to go.
A very popular American politician almost lost his presidency, over a scandal involving a woman. Thirty years previously, again an American President had to resign, over electioneering-corruption initiated by his office. History had it registered as the "Watergate Affairs." I am sure Americans did not see it as negative-reportage, but rather the strength of typical Democratic Institutions, keeping law and order afloat. How come it looks different in Africa, when the citizenry use the only weapon they are left with, to voice their disapproval of the day-to-day running of political affairs?
I have observed the "negative reportage" of what was then called the Third World, for which citizens, but especially people who lived by having to report what happened daily, sacrifice their lives, change all of a sudden into "positive reportage", where there is less misery to write about. Some nations have cocooned out of "Third World economies" into "first-world opulence". The star-example of that is Singapore. How about Africa?
AFRICA
There are a couple of stigmata which have stayed mostly with what has been dubbed, "Africa, South of the Sahara." Of course, if South Africa is part of the Africa being talked of, it definitely is not part of that Africa in the economic context meant here. This Africa-South-of-the-Sahara is synonymous with Disease, Poverty, and Deprivation, (DPD). It is the only part of the world, where in the last three decades of the 20th Century, economic progress failed to materialize. The deadly disease of the Millennium, HIV-AIDS, has found a home in Africa, like no-where else. In the case of Ghana, where shortly after Independence in 1957, the
Compulsory Education ushered in by the President of the 1st Republic almost completely uprooted illiteracy one-hundred-percent, the necklace of a staggering 62% of illiteracy is for sure not what we can show with pride anywhere else today. But that is the reality.
It is true that, finger pointing is easier than leading a team. But it is also true that, whilst you may be moving forward, you might miss keeping the path straight.
In the Ghanaian context, every tribe is aware of the famous Ananse fables, and especially the one in which Kwaku Ananse is said to have collected what he thought was all the wisdom in the world into a gourd, and had a strategy of climbing the tallest tree, to deposit it at the very top, where it was to be safe, for his own consumption only. His method though of ascending the tree was ineffective. His inexperienced son, traditionally called Ntikuma, called his dad's attention to a better way of climbing a tree, when you are carrying a load. His son's method turned out to be a better one. Our traditions are replete with such examples. If we turn elsewhere, Anderson 's world famous tale, "the king's new clothes", is another example.
[email protected] 50
Our beloved nation has had a difficult time since Independence. Many showed their backs, and some who had acquired skills elsewhere simply did not show up at home to begin with, (I am in that group).
Then, we arrive at mile 50 on the journey after Independence on March 6th, 1957, in 2007. Dr. Nkrumah and his colleagues mounted the podium that mid-night in 1957 each wearing a tract traditionally donned by our brothers from what was then called the Northern Territories. The NT-smock, as it was dubbed, started a popularity climb, which is unabated till today. Our Omanpanin today must have been at Prempeh College then. His argument for preferring a foreign tract fifty years later is well taken. He cites the examples of Japanese and Chinese leaders wearing European attires too, even on state functions. He by so doing exercised his right, of doing what he felt he liked best, within the law. Freedom! Indeed, it has been that kind of freedom that has served Britain and the USA for hundreds of years, and lately Japan and Germany after World War II, so well, propelling them into prosperity, never seen before. Indeed, the nation's Chief Executive could have just reserved the right, (his right), to say nothing to the public on this issue. There are examples: Former German Chancellor Helmut Schmidt, on a G-7 Summit in Cancoon, Mexico in the mid-seventies, had a nice but an overly oversize coat on.
One comment from the German press went like this; "So, couldn't you have got the jacket your size, Mr. Bundeskanzler?" Any comment from Herr Helmut Schmidt has been missing until today. How about former British Prime Minister, John Major? On a coat he is believed to have got from an Indian "petty-shop" at Charing Cross Railway Station one day.
"The link with that station and the kind of shops around is the joke. You don't pick designer-wear from that place." This British Prime Minister was not noted initially for the best couture.
He left all such comments unanswered. But, if there should be a comment, then Mrs. Thatcher's is what people might like best. "I don't understand why I can't wear what I like." Simple!
And the "negative criticism" has taken a new dimension in Africa. The battered head of an opposition leader of an African country raised uproar in the world recently, whereas African countries kept quiet. We always need a Bob Geldorf, and in Uganda, there must be more transparency in elections. The President of an African country was to be flown overseas for treatment of a disease that eventually killed him, whilst the jet engines of his presidential aircraft were being revved for take-off. That, in any case, is the state of affairs in most African countries. But, the worst favour we could do the Republic would be to apotheosize the freedom to express one's opinion irrespective of the issue, as "negative criticism". That is for sure not what "Freedom and Justice" means.