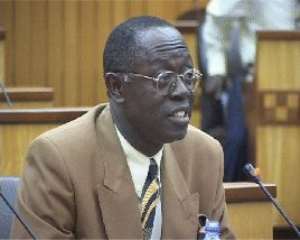 The Minister of Information and National Orientation, Mr Kwamena Bartels, has said until government studies the court decision reversing adverse findings against the former Transport Minister, Dr Richard Anane, it can not decide his come back or otherwise.

Speaking to Joy News from the UK, where President Kufuor is on a state visit, Mr Bartels said the issue of Dr Anane's reappointment is the prerogative of President Kufuor.
"That is a decision which I believe should be left to His Excellency the President whether he would want Dr Anane to back to take up his position which he resigned to take up this issue in court," he stated.
He pointed out: "But in the mean time, I think we should let the president look at the decision. We have not even studied the decision. The President has not seen the decision. Government would have to study it to get a fuller appreciation of the reasons that have gone into it."
Dr Anane resigned his post in October last year to contest the Commission on Human Rights and Administrative Justice's (CHRAJ) ruling but it is uncertain if he would be reappointed although no substantive minister has been named for his portfolio.
Mr Bartels said government's long held belief in the rule of law and the independence of the judiciary was vindicated by the Fast Track High Court's decision to overturn the adverse findings the CHRAJ made against the former Transportation Minister, Dr Richard Anane.
Mr Bartels said President Kufuor is aware of the outcome.
He said although government welcomes the court's decision it is important that the judicial process is fully exhausted to determine the legal jurisdiction of bodies such as CHRAJ.
"We are also informed that CHRAJ wants to appeal. Let CHRAJ take it up in the court of appeal and up to probably the Supreme Court so that we can have the final determination of the issue…so that everybody would know precisely where the limit of his authority and powers are," he stated.