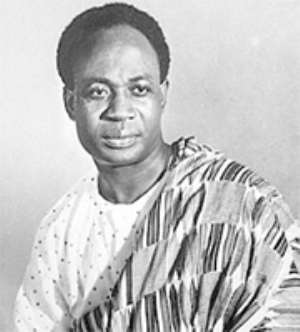 A Lecturer at the University of Ghana, Dr Vladimir Antwi Danso, has suggested that the assets of Ghana's first President, Osagyefo Dr Kwame Nkrumah, be preserved and used as tourist attractions as the country celebrates its golden jubilee.
According to him, it was improper and unnecessary to have passed decrees to confiscate Nkrumah's assets.
"Dr Kwame Nkrumah lived and died for his country and the best thing Ghana could have done was for his assets to be preserved," he stressed.
Dr Antwi Danso made the suggestion when he delivered a lecture at the Chemu Secondary School in Tema as part of celebrations marking the 50th independence anniversary.
It was on the theme: "The role of the military in nation Building."
He said Dr Nkrumah's possessions, which included his house, bed, clothes and even his home town would have fetched lots of money for Ghana today if that had been kept and developed.
He said although Dr Nkrumah did a lot for Ghana some critics continued to tarnish his good name adding that a section of Ghanaians continued to accuse him of being power drunk, corrupt and causing financial loss to the state, allegations which were made to make him unpopular and facilitated his overthrow.
"Ghanaians should ask themselves how much it cost Dr Kwame Nkrumah to construct the Akosombo Dam, the defunct Nsawam cannery and the numerous industries and state farms which provided employment for many Ghanaians."
The lecturer challenged Ghanaians particularly students, to do more research on Ghana's history especially on the life of Dr Kwame Nkrumah.
The Headmaster of Chemu Secondary School, Mr George K. Avorkliyah, also spoke on the significance of the 28th February shooting incident, which resulted in the struggle for independence.
He said the veterans had marched to the Osu castle to demand their right which was not wrong because they had petitioned the then governor in a peaceful manner , thus none of the veterans deserved to die.
"As Ghanaians we must not sell our birthright and we must learn to petition people in authority whenever we are aggrieved over an issue," he said.
Mr Avorkliyah urged Ghanaians to live peacefully with each other and wished them happy jubilee celebrations.
Story by Mary Essiam