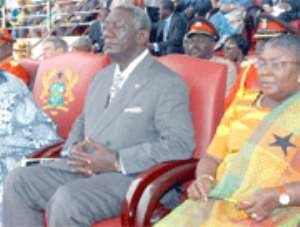 If anyone was sceptical about how Ghanaians were going to celebrate the nation's 50th birthday party last Tuesday, the huge turnout at the Independence Square with the splendid and exquisite display of rich Ghanaian culture and nationalism must have put all sceptism to rest.
However, the host of the day, President John Agyekum Kufuor, failed to impress most Ghanaians. Instead of showing the entire world, whose attention was focused on Ghana for obvious reasons, with his usual elegant appearance in traditional garb, he rather sported a grey suit.
This issue sparked loads of debate on the airwaves the following day. Most callers expressed their disappointment and even disgust at the chief executive of the nation sporting a suit to grace the occasion.
Speaking to some members of the general public, Graphic Showbiz found out that most people were not happy with the President's choice of outfit. To them, he failed to sell Ghana by wearing a suit.
William, a media person said the event at the Independence Square was a platform on which the people of Ghana could sell the country to the world.
" When I say sell the country to the outside world many things come to play. For me, whichever form that fashion comes forms a very important part of a people. President Kufuor is a symbol of everything Ghananian and I expected him to be in something traditional. I am very disappointed.
"The Vice-President was in a traditional wear and the First Lady was in kente so what informed his choice of attire? Is he championing African excellence by wearing a suit? I am sorry I can't understand this. I like the President's calmness about everything but I think his fashion sense is too elitist."
According to Kow, a communication specialist, he was ill-prepared for President Kufuor as he stepped down from his car. "Especially when just before he arrived, one of the TV commentators had commended President Olusegun Obasanjo of Nigeria, Guest of Honour for the ocassion, for always wearing traditional clothes only for President Kufuor to step out in a suit.
"It was unbelievable. Just a week ago, he had worn a beautiful kente at Anomabo and for him to step out in a suit on an occasion like this, I don't get it. It is just not on."
Victor, a politician said the President got it all wrong by wearing a suit. "Kwame Nkrumah wore a smock to declare independence and later wore kente to address Parliament. Since the day marked our 50th anniversary, he should have worn kente. Meanwhile, the colour of the suit he wore was not appropriate. He should have worn a blue-black suit and not a grey one. He got it all wrong."
Sharing the same sentiment, Alfred, a banker said the President nearly marred the day's celebration for him. "The kids put up a splendid performance and the Prez 'spoilt' the whole show with his suit. The Prez always tells us we have this and that in the country and we should seize every opportunity we get to sell the nation and he wears a suit on such a memorable ocassion. 'Pleeeassse'. He got it wrong. Leadership by example is important. You know what I mean."
Abena, a journalist, is equally disappointed with the Prez. "President Obasanjo was in traditional wear. Some of President Kufuor's ministers were in traditional wear but the President, his brother, Dr Kwame Addo Kufuor, Minister for Defence and Nana Akuffo-Addo, Minister for Foreign Affairs and Nepad were all in suit. How could they? It was our day and the whole world was looking at us. He should have worn kente. I was highly disappointed."
Linda, a guest from Britain said she expected to see the President in a traditional outfit. "I know he has been advocating patronage for made in Ghana goods and he was in a suit which I am sure was made by a foreign designer.
What he did was just not on. He should have worn kente or a smock."
Ade, a businessman, says he doesn't agree with those saying the President wore a suit for comfortability as well as security reasons. " No one can tell me the President feels uncomfortable in a cloth. Also, if it is for security reasons then what attire is safer than a smock? In fact if he has someone in charge of his wardrobe that person should be fired. He made the President look awkward in a grey suit on our 50th anniversary."
Ernie, an interior decorator said he saw nothing wrong with the President wearing a suit. "I think people just want to find fault where there is none. I believe Tuesday was good and everything went well. Just because they have nothing bad to say about the day,they have come up with what he wore. If that is the case, then the whole the parade is also foreign and should not have even happened."
Story by Adwoa Serwaa Bonsu