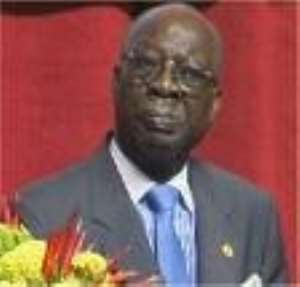 Peter Ala Adjetey, former Speaker of Parliament has advocated the active participation of political parties in District Assembly elections.
"The prohibition of political parties from operating for the purposes of district assembly or lower local government units by the 1992 Constitution is considered by many as totally unreasonable and unrealistic," he said.
Giving an overview of the new Political Parties Bill at a forum organised by the Institute of Economic Affairs (IEA) in Accra, yesterday the former Speaker noted that it would be proper to open up the local government elections to the political parties because the parties have the right to operate for the purposes of national elections.
He said that the parties are currently involved somehow in the elections even though the elections are supposed to be non-partisan, saying, "We must stop behaving like ostriches in the desert."
Experience in political party activities for local government elections, he said was a useful training for participation in elections to the presidency and parliament, and consequently should be encouraged instead of being prohibited.
"It is strongly recommended that this limitation on the activities of the political parties for the purposes of local government elections be removed at the earliest opportunity," he said.
Mr. Adjetey, who was commissioned by the IEA to review the Act for the drafting of a new one towards the development of parties and the political environment in the country, said the new bill has been drafted with a view to facilitating the registration and operation of political parties and to restrict the power to interfere with such registration and operation.
He said the basic structure and matrix of the Political Parties Act 2000 (Act 574) has been maintained in the new bill adding that the Act ran through some 34 sections while the new bill has 33 clauses.
Mr Adjetey thanked the political parties that submitted memoranda for the bill saying that some of their suggestions which were not considered in the bill were still open for discussion.
Representatives of political parties and the Electoral Commission who were at the forum subjected the new bill to critical analysis.
Opening the forum, Jean Mensa, Administrator of the IEA, announced that the drafting of a bill for the state funding of political parties was underway and would soon be completed for the consideration of Parliament.
She was optimistic that it would be passed in time to enable the parties to be assisted by the state to undertake their activities for the 2008 elections.