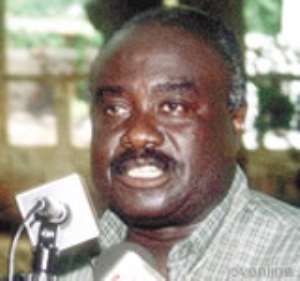 The Chief Executive Officer of the [email protected] Secretariat, Dr. Charles Wereko-Brobby may be summoned before Parliament to account for his stewardship.
This follows his refusal to appear before the Parliamentary Select Committee on Finance.
Hon Haruna Iddrisu, Member of Parliament for Tamale South raised the issue on the floor of the House yesterday, arguing that if the House approved $20 million for the Secretariat, Ghanaians had the right to know what had happened to the money and other consequential matters.
He said it was an affront to the House of Parliament that Dr. Wereko-Brobbey refused to appear before one of its committees.
Hon Haruna Iddrisu said Parliament had not heard anything from the Secretariat since it approved the amount.
He accused the Secretariat of showing gross disrespect to the Parliamentary Select Committee on Finance and for that matter Parliament in general as a national institution.
The [email protected] CEO has however written to the House, in which he stated that the letter inviting him to appear before it is misdirected.
Continuing, he said the Secretariat acts as a special purpose centre for the National Planning Committee which is a sub-committee of the Cabinet of Ghana.
The CEO therefore asked the Parliamentary Committee to direct its request to the Chairman of the National Planning Committee who is the Minister for Presidential Affairs and Chief of Staff at the Office of the President.
It would be recalled that the Finance Committee, chaired by Hon Adu Mante, had invited the CEO to appear before it with an explanation of the income and expenditure activities of the Secretariat.
The Secretariat was allocated an amount of $20 million through the 2006 supplementary budget.
The CEO was expected to appear before the committee last Wednesday 21 February 2007, but did not do so, because of his position that the correspondence was misdirected.
In an unrelated development, the MP for Asawasi constituency, Hon Muntaka Mubarak expressed displeasure with the rate at which questions were answered in the House.
According to him, some questions were never answered but the Majority Leader and Minister for Parliamentary Affairs, Hon Felix Adjepong aplogised on behalf of Ministers who could not turn up to answer questions and promised that this would never recur.