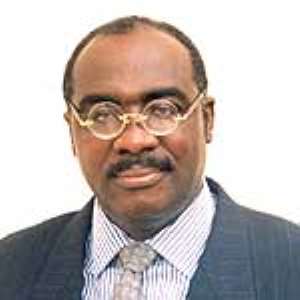 Prominent Ghanaian Economist, Dr. Nii Moi Thompson, has advised the government not to increase the duration of SSS education from 3 to 4 years.
According to Dr. Thompson, "there is no convincing empirical basis for such a potentially disastrous decision" – a decision, which he said would "needlessly jeopardize the Ghanaian education system and destroy the lives of many."
Government has proposed to extend the system by a year beginning September of 2007.
The Chronicle Newspaper of Thursday published an interview with Dr. Thompson in which he said the 4-year policy was likely to "create structural distortions in an already weakened educational system, impose needless costs on parents and government alike, and create conditions for more teacher unrests without even doing what it is meant to do: Improve the quality of education."
Dr. Thompson said the resources that would go into that extra year of education should rather be put into early childhood education and the pursuit of "solid pre-SSS education generally."
"That's where the future of good education lies," he declared, noting that "when you have kids who are smart, with solid pre-school education, they can finish SSS in two years, if need be."
"On the other hand, if the foundation is weak and they go through JSS ill-prepared, extending SSS by 10 years would do absolutely nothing – we'll simply be spending more for less."
Dr. Thompson said the suggestion that SSS should be extended to four years was made twice in the past (under the previous government) but was rejected because "existing research had shown that the problem was one of poor quality in early education, not low quantity in middle education."
Asked to elaborate, he said that both the JSS and SSS systems suffered from what he called "curriculum overload," where pupils were being made to learn all sorts of things that they didn't need – like agriculture."
"At that young age," he said, "students should be learning only the basics - Maths, English - in all its forms, and critical thinking, which we lack severely."
Vocational, technical and other forms of education, he said, are best acquired after secondary school, "when there is a certain level of maturity and of course knowledge."
He said, "Forcing a kid to drive a nail into a piece of wood or throw wet concrete against the wall when they lack critical thinking skills is no way to develop our human resource base.
"That's why every building you see in Ghana these days is crooked and ugly, of very poor quality; they are basically being built by children. That was never the case in the past – and you can tell the difference by looking at structures built as far back as the 1920s and those mansions at East Legon built last year. The difference is like the Rock of Gibraltar and an ant-hill in the savannah."
Asked to explain how the additional one year of SSS would create labour unrests among teachers, Dr. Thompson said "The increased work load will almost certainly lead to increased demand by teachers for higher pay, and if the government refuses to meet those demands, we could have strikes."
He said rather than extending SSS, the additional money from the extra year should be used to top up teachers' salaries, acquire text books, train more teachers and replace the 5,000 make-shift educational structures, including sheds and shady trees around the country, that compromise the quality of learning.
Dr. Thompson also called on the GES to enforce its by-laws that require schools without indoor lighting to have transparent roofs. He said most children perform poorly not because they are inherently uneducable but because they have sight problems caused by poor lighting conditions in most schools across the country.
Children from poor homes headed by parents who have not been to school are likely to be affected the most by this situation, which he suspected was affecting "hundreds of thousands of pupils annually."
He condemned the recent mass dismissal of 60 students from Akim Oda Secondary School for "poor performance," noting that some of these students could have been victims of such a poor learning environment and that with professional help they could overcome their difficulties and become wholesome and productive members of society.
Dr. Thompson criticized Ghana's educational system for being more "punitive than assistive."
"Let's stop cutting our nose to spite our face," he concluded.
Source: The Chronicle