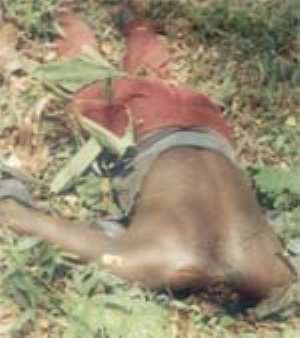 Residents of Tsito in the Volta Region were, on Thursday February 15, 2007, gripped with fear, following the gruesome murder of a 27-year-old man by some unknown assailants at Bator in the Tsito territory near Kporvi, the Tsito-Peki conflict area.
The deceased, Edem Asempa, a citizen of Tsito, was believed to have been returning from his farm on Tuesday when he was attacked and his head cut off.
The body of the young man, which displayed numerous gunshot wounds, was discovered in a pool of blood on Thursday, two days after his loss.
This followed a thorough search in the whole of the Tsito township and nearby villages by the local "Asafo" group, after news broke out in the area that the man was missing.
In an interview with Daily Guide at Tsito, Emmanuel Asempa, a brother of the deceased said Edem had informed them on Tuesday February 13 that he was going to farm at Bator and would pass the night at his village.
He indicated that the family became alarmed when by late in the afternoon the following day, the deceased had not returned, because he had assured them of coming back by then.
When news of Edem's disappearance got to elders of the town, they asked his relatives to go and search the victim's farm and village; but all these efforts were to no avail.
A thorough search by the "Asafo" group on Thursday morning, however, led to the body.
Mr. Asempa expressed shock at the pathetic incident, which he noted, the people of Tsito were least expecting at this time that efforts were underway to ensure peace between them and the people of Peki.
To him, what was more intriguing was that where the deceased was killed was not part of the disputed area, but a farmland belonging to the people of Tsito.
The Volta Regional Police Commander, Edmond Derry, in an interview with the Daily Guide, expressed shock at the incident, describing it as barbaric but said no arrests had been made yet.
He however, gave the assurance that the police had instituted full-scale investigations into the matter.
The police, he said, would not link the case to the conflict in the area and would rather handle it purely as a murder case. He therefore urged the people of both Peki and Tsito to remain calm and co-operate with them to arrest the culprits.
Mr. Derry said the incident would not be allowed to derail the recent peace and reconciliatory process initiated by the Regional Police Command to bring to an end, the age - old conflict between the two factions.
The headless body has since been deposited at the morgue, pending autopsy.
It would be recalled that the Daily Guide published a news item on Saturday, the 3rd of this month about a peace and reconciliatory move initiated by the Volta Regional Police Command to restore peace between the people of Tsito and Peki.