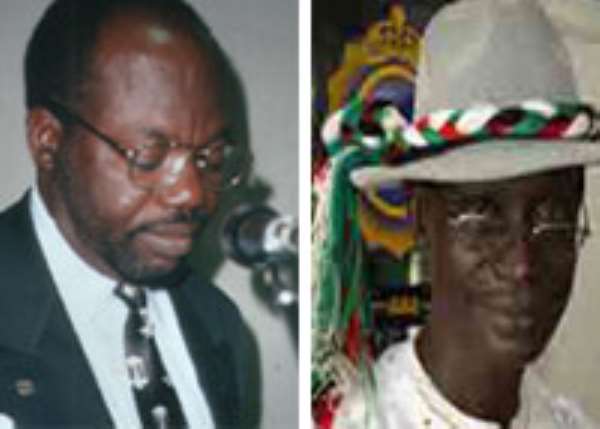 THE WAR of words between the National Democratic Congress (NDC) and a local Radio Station, CLASSIC FM in Techiman has taken a dramatic turn, as the Chairman of the Brong Ahafo Regional NDC has dragged the Chief Executive Officer of the station, Mr. Fred Zeini, Eric Bawah, News Editor and the station itself to a Wenchi High Court.

The NDC Chairman, Lawyer John Owusu Agyemang in his writ filed at the Court, is demanding an order to compel the Defendants to retract all defamatory words in the same manner the station broadcasted their press conference in reaction to an earlier NDC press conference that accused the station for bias reportage.
Lawyer Agyemang has also sued the Defendants for aggravated and exemplary damages for defaming and libeling him in the defendants' press statement presented to the press during their press conference and on several radio stations, including CLASSIC FM that broadcasted the said press conference live.
The Plaintiff is also praying the Court to put a perpetual injunction restraining the defendants, their heirs, agents, servants and workers from broadcasting any further defamatory matter against him. Quoting some of the Defendants' statement, which he described as very defamatory and libelous, Lawyer Agyemang contended that some paragraphs provides inter alia that, "matters came to an unbearable situation when lawyer Agyeman engaged some panel members in a fight and as a result, management had no option but to write to the three of them, including Lawyer Agyeman to stay from the newspaper review programme to save the station from public ridicule".
The Plaintiff claims that when answering questions from the media, Fred Zeini had stated, "before Lawyer Agyeman became a Lawyer as he claims to be, I contributed a major role in his education's achievement," adding, "without me he could not have become a Lawyer and complete his law school in Legon".
Mr. Zeini, according to Lawyer Agyemang, disclosed to the Journalists that he bought four of Lawyer Agyeman's law books for him.
The CLASSIC FM Boss continued that he helped Lawyer Agyeman financially, when the Lawyer told him he was finding things difficult because his clients paid him only ¢20,000.
Lawyer Agyeman also quoted the 1st Defendant as saying that, he Zeini was a hero in the Lawyer's life. "I advised him to weigh his language". I called him to my office to advise him that he was going to lose the NDC primaries but he did not mind me and when he finally lost, he came to me and insulted, 'go away with your folly. You and Abokyi; your foolishness. You paid money to Addai Simon to buy people with ¢30,000 because NDC people are foolish", the NDC Chairman stated.
The NDC Regional Chairman in his claim stated that the Defendant accused him of using provocative words for five years, and even went further to describe he, Lawyer Agyeman as incorrigible and impervious to advice.
"Again he took Bawa the 2nd Defendant to an NDC programme and when he (Bawa) was being beaten, Lawyer Agyeman ran away at that critical point," revealed the Plaintiff. He avers that the CLASSIC FM Boss told the press that he, Lawyer Agyeman had been begging people who have cases against Mr. Zeini to hand over their cases to him so that he could drag him to Court.
According to the Lawyer's claim, Mr. Zeini cited a story of a pupil whose penis was cut with a blade, in which CLASSIC FM interviewed the boy and the woman who was said to have cut the boy's penis.
He said Lawyer Agyeman went to the woman that he would pursue the matter in Court, which he succeeded and is currently the Counsel for the lady. Lawyer Agyeman stated that Mr. Zeini again told the press that, he the Lawyer told one Memunatu that he hates Mr. Zeini, so he would take him to Court which he has done, when the girl (Memunatu) and her parents said they had no problem.
In a related development, Memunatu Abubakar who recently had a physical fight with her Boss, Mr. Zeini, has also filed a writ against the MD, Zeini at a Circuit Court in Techiman.
Memunatu is accusing her former Boss of physically attacking her, alleging that Mr. Zeini had landed some heavy slaps on her face.
Memunatu was a Sports Presenter and Newscaster at CLASSIC, until she and the Boss engaged in a fight.