Ex-Prez Rawlings Suffers Personal Indignity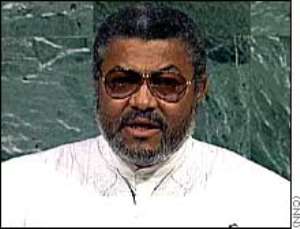 Former President Jerry John Rawlings recently suffered personal indignity when during his screening at the Heathrow Airport, London, his trousers dropped, exposing his boxer shorts. Daily Guide learnt that Mr. Rawlings, who was on one of his numerous trips to the United Kingdom, was rendered almost naked when security personnel insisted that he removed his shoes and belt as part of security procedure before passing through the scanner, just like anyone else.
On loosening his belt however, Rawlings's trousers which was apparently too big for his waist, dropped to his knees, exposing his boxer shorts. Mr. Rawlings who had turned down protocol courtesies, Daily Guide gathered, had initially resisted the demand that he went through the security checks, with the argument that he was Ghana's former President. The Heathrow airport security was however, not interested in granting any such privileges and insisted that he removed his shoes and belt.
In recent times, British Airport Authorities have intensified security arrangements because of terrorist threats. Travellers are therefore restricted to only one hand luggage, while liquid materials including water and cosmetics exceeding 100ml are barred from the cabin. When the embarrassment occurred, angered Rawlings now launched into a sporadic tirade, accusing Western leaders of hypocrisy.
The airport security told him however that if he did not want to be checked, the only alternative was to have gone through the VIP lounge with the aid of the Ghana High Commission, and so long as he and his family declined state privileges, they would have to go through such rigorous security checks.
Government sometime ago, withdrew the privileges of the former first family, citing what officials described as Mr. Rawlings' 'unstatesmanlike behaviour', which included persistent bashing of the sitting President. The privileges were however restored last year, after a review of the situation.
Nevertheless, the former president and his wife rejected these courtesies, claiming that they wanted to be treated like ordinary persons.