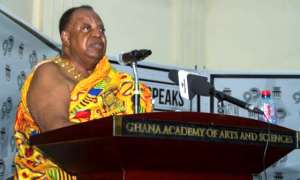 Prof. Samuel Kwadwo Boateng Asante, Ghanaian lawyer and the Paramount Chief of Asokore in the Ashanti region
Prof. Samuel Kwadwo Boateng Asante, known affectionately as Prof. S.K.B. Asante, a Ghanaian lawyer and the Paramount Chief of Asokore in the Ashanti region, has opined on the menace of misinformation.
The former international arbitrator asserted that the effects of misinformation are something that needs urgent attention.
The revered king was speaking in his capacity as the chairperson of a forum dubbed "Misinformation, Peace, and Democratic Consolidation in Ghana," organized by the Media Foundation for West Africa in partnership with the National Media Commission and the National Peace Council held at the Alisa Hotel in Accra on Wednesday, March 22.
The chairman of the 1991 Committee of Experts, which made provisions for the drafting of the country's fourth republican constitution, said the nation must not tamper with its "young" democracy in its fight against misinformation.
Prof. Asante, who served on the International Court of Arbitration of the International Chamber of Commerce, and the International Centre for Settlement of Investment Disputes, posited however that the country's constitution affirms the legitimate limitation of some fundamental human rights in the interest of the public.
"Ladies and gentlemen, we are here today because this liberal regime has been abused by the purveyors of misinformation, which seems to threaten the political and social order of our country.
"Our Constitution expressly proclaims the legitimacy of limiting the stipulated fundamental rights and freedoms in our Constitution in the public interest," he said in a portion of his speech.
He continued, "In some other countries, the regulation of misinformation is considered repugnant to freedom of expression on the grounds that a democratic society should allow a free market of ideas in which the good ideas will prevail over the bad ideas.
"My question is whether misinformation or disinformation, which involves a false statement of facts whether intentional or otherwise is an idea."
According to him, "it is known from the political experience of some countries that negative political campaigns hurt and that misinformation or disinformation can have a negative impact," he said, while stressing in the concluding part that "the challenge before us is how to address the deleterious effects of misinformation without stifling our young democracy."