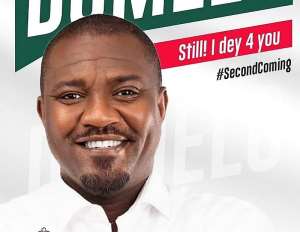 As John Dumelo has announces his decision to rerun his parliamentary bid for 2024 elections after closing the gap for his party in 2020 elections.
These are the 10 reasons why the NDC delegates should re-elect him as their parliament candidate in 2024 general elections.
10 reasons to re-elect John Dumelo as AWW parliamentary candidate.
1. John Dumelo is a household name and on the minds of every average voter in Ayawaso West wougon.
2. In 2020, John Dumelo was largely marketed by the NDC in Ayawaso west and has become a print on the minds of everyday voters.
3. John Dumelo attracted a lot of people unto the elections register in 2020 leading to a highest voter turn-out for the last 24 years for the NDC.
4. To beat the NPP and Lydia Alhassan, repeating John's candidature will make the work easy for the NDC branch executives in the constituency.
5. John Dumelo moved the voter gap of over 10,000 differences in 2016 to about 1,900, an easy figure to turn around in 2024 by the NDC & John Dumelo.
6. John Dumelo has invested largely in the voter pollution in Ayawaso West, supporting small businesses and students in the constituency, this will help to give the NDC a good starting in 2024.
7. John will improve on JM's performance by closing the 200 voters gaps in 2024.
8. John Dumelo is the only candidate the NPP fears, because judging from his 2020 performance they are very aware he will win if he's repeated.
9. Due to the bad performance of the current NPP government, the expected voter apathy in the country in 2024 will benefit Ayawawso if NDC repeats John Dumelo.
10. Since AWW constituency was created, John is the first candidate to put himself up for the second time parliamentary elections for the NDC. All other candidates in the past have always contested once, a major reason for our non-performance in the constituency.
To me, this's a golden opportunity for the NDC to repeat it parliamentary candidate in 24 years and win the seat finally if they want to stand a chance.
Introducing a new candidate at this crucial point in the that constituency will be a big setback for the NDC.