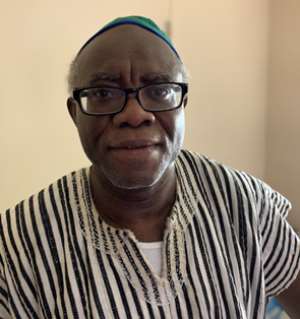 Instead of desperately seeking to impugn or indelibly tarnish the relatively far more governance accountability of taxpayer money and donor financial assistance, largely from the West, under the watch of President Addo Dankwa Akufo-Addo, former President John "European Airbus Payola" Dramani Mahama ought to be commending his immediate successor for having appointed an Auditor-General who is studiously nonpartisan and conscientious to the letter in the handling of public funds by government officials and highly placed civil and public servants in the country (See "Mahama Calls for Forensic Audit of COVID-19 Funds Across Africa" Modernghana.com 1/27/23).
In a recent lecture that the democratically ousted former President and twice-defeated Presidential Candidate of the country's main opposition political party, the National Democratic Congress (NDC), delivered at Chatham House, London-UK, the man the Founding Father of whose own aforementioned party, the late President Jeremiah "Jerry" John Rawlings, described as the most thoroughgoing corrupt postcolonial Ghanaian leader accused the Akufo-Addo Government of his immediate successor of not having been accountable for more than GH₵21.8 billion (Approximately Twenty-Two Billion Cedis) that Mr. Mahama claims had been mobilized by a diversity of banking institutions and governments around the world to help Ghana fight off the COVID-19 Global Pandemic.
Among the sources of such of such emergency funds, according to the former President, were the twin Bretton-Woods establishments of the World Bank and the International Monetary Fund, the European Union, the African Development Bank, Ghana's own Contingency Fund, and the sale of Bank of Ghana's COVID-19 Bonds. Such self-righteous call for strict accountability rings ironic, especially when we reckon the fact that Mr. Mahama was Vice-President in the government of the late President John Evans Atta-Mills, when a well-known financier of his own National Democratic Congress party colluded and collaborated with these two newly elected leaders and several of the pair's cabinet appointees and other party stalwarts to bilk Ghanaian taxpayers the humongous sum of GH₵51.2 million. As of this writing, the bulk of this stolen and NDC-divvied up pelf had still not been paid back into Ghana's National Treasury from where it was extorted by false pretenses or fraud.
As well, as this writer vividly recalls, Candidate Mahama had made the full monetary recovery of this Mega-Heist fronted by Mr. Alfred Agbesi Woyome, the party's putatively foremost financier, a major plank of his 2012 electioneering-campaign agenda. By the close of his four-and-half-year tenure, absolutely zilch, nada, zero, had been collected and returned to our National Treasury. Now, what the foregoing obviously means is that as a politician and a former President, Mr. John "Akonfem-Kanazoe Ouagadougou" Dramani Mahama has absolutely no credibility and ought to make a religiously routine habit of looking himself up in the dressing mirror before presuming to call the credibility and the integrity of his relatively far more responsible political opponents into question.
It is also absolutely nothing short of the depravedly comical for the man who used the downright vacuous institutional vehicle of the much-maligned Akufo-Addo copycat Savannah Accelerated Development Authority (SADA) to enable a handful of his northern-descended corporate cronies and friends to scam Ghanaian taxpayers to the tune of billions of cedis in the mendacious name and guise of facilitating the catching-up development of the northern half of the country with the relatively more economically advanced southern half of the country. Even more presumptuous is the former President's call for all African countries that received COVID-19 economic assistance from the West to be compelled to provide audit reports to their respective donors vis-à-vis precisely how such monies were used or spent. Now, this is the pontifically self-righteous call of the man whose secondment by the African Union (AU) to broker for peace in strife-torn Somalia was promptly and roundly rejected by all the parties involved.
The ugly truth of the matter is that outside of his own native country of Ghana, where he is widely known to be a very divisive and unarguably a highly controversial figure, the former J. J. Rawlings-appointed Communications Minister has absolutely no respectability anywhere else on the African Continent. For instance, the late President Robert Mugabe, whose first wife, Sally Mugabe, was of Ghanaian birth and upbringing, was widely reported to have expressed great incredulity about the fact that a man who had been soundly beaten in the 2016 Presidential Election, with more than ONE-MILLION VOTES, in a country of barely 30 million people, would adamantly insist on being given another shot to run against the man who had so mercilessly trounced him, almost as if Comrade Mahama were a common street urchin or a mugger.
His downright stolid demand for all African countries that received foreign financial assistance in their fight against the COVID-19 Pandemic to be compelled to submit audit reports to their donors, rings with the asininity of a psychologically dislocated and self-despising local imperialist collaborator or bourgeois comprador. And it is almost unarguably certain that were Mr. Mahama the President of Ghana, presently, and his successor, Nana Addo Dankwa Akufo-Addo, the main opposition leader who made such a fatuous judgment call, the Bole-Bamboi native, from the Akufo-Addo-Created Savannah Region, would almost definitely have questioned the patriotism, sanity and loyalty of the proverbial "Little Man from Kyebi" and even publicly wondered whether the former Foreign Minister and Minister for ECOWAS Regional Integration was not either working for Britain's MI-6 or, worse yet, the Central Intelligence Agency (CIA) of the United States of America.
That is how hopelessly pathetic megalomaniacal desperadoes like Okogufo Kwame Gonja have now become. And it is another damn good reason why these self-infatuated robber-barons need to be permanently kept away from the august seat of governance which, in the memorable and indelible words of Associate Supreme Court Justice Jones Mawulorm Dotse, the kleptocratic likes of John Mahama envisage to be mere booty to be voraciously harvested and rapaciously gorged with stygian blindness.
*Visit my blog at: KwameOkoampaAhoofeJr
By Kwame Okoampa-Ahoofe, Jr., PhD
English Department, SUNY-Nassau
Garden City, New York
January 28, 2023
E-mail: [email protected]