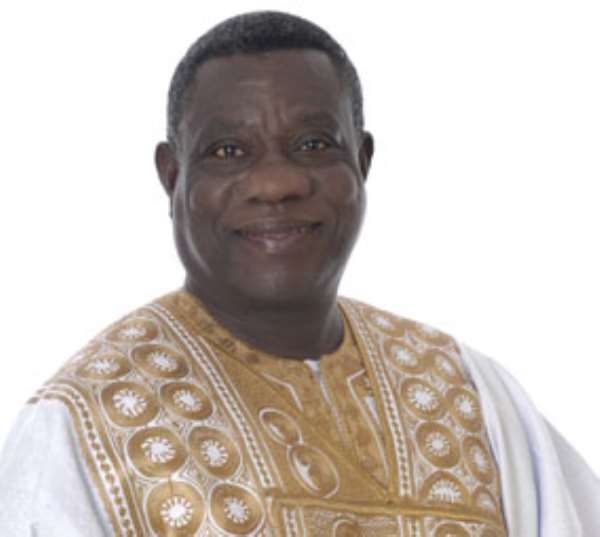 Professor John Evans Atta Mills, former Vice President, on Thursday polled 1,362 votes, representing 81.4 percent of the total vote caste, to win the National Democratic Congress (NDC) presidential slot for Elections 2008. Dr Ekow Spio-Garbrah, a former Minister of Education, polled 146 votes representing 8.7 percent, Alhaji Mahama Iddrisu, a former Minister of Defence, had 137 votes representing 8.2 percent and Mr Eddie Annan, a businessman, got 28 votes representing 1.7 percent. Prof Mills contested Elections 2000 and 2004 on the ticket of the NDC as its presidential candidate and lost to the New Patriot Party's then candidate John Agyekum Kufuor.
Declaring the results at the end of four hours of voting and counting the Deputy Chairman of the Electoral Commission, Mr Kwadwo Sarfo Kantanka, said with the result, Prof Mills stood dully elected as NDC Presidential Candidates for Elections 2008. Amidst drumming and dancing, the four aspirants embraced each other and this drew deafening applause and shouts of NDC slogans. Prof Mills declared that the victory was for the party and the other candidates and assured them that they would form the core of his campaign team.
"The victory is the fulfillment of our quest to win back power from the New Patriotic Party (NPP) in the 2008 general elections." Prof Mills said his victory was a manifestation of the people's choice, a success for the party and not a personal achievement. He said the successful election of a flag-bearer for the NDC was just the first phase of the struggle to win back power. "The party needs unity, truth and dedication to increase its strength for the Elections 2008. Members of the NDC have spoken. They have sent a message to the NPP that we are ready to engage in a serious battle. Everybody must get on board. Let's forgive and forget and build the party." Prof Mills called on the NDC to be more committed and vibrant and thanked the founding fathers, the Council of Elders and his wife Naadu for assisting in ensuring a successful congress.
All the defeated aspirants pledged their total support for the cause of the NDC. "We will not leave the NDC, we will not form a new party, we have no other party other than the NDC," they said. Dr Spio-Garbrah, Alhaji Iddrisu and Mr Annan congratulated Prof Mills for the victory that they described as free, fair, transparent and representing the wishes of the party and Ghanaians.