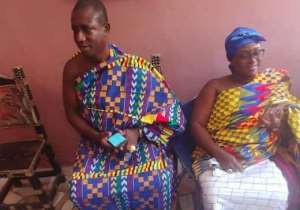 Nana Kofi Awiah II together with his queen mother Nana Ama Kyaa III
In their quest to ensure their people enjoy portable water, the chief of Soko, a town in the Afigya Kwabre North District of Ashanti Region, Nana Kofi Awiah II together with his queen mother Nana Ama Kyaa III on Tuesday, January 10 2023 met a representative of an Accra based Non-Governmental Organization (NGO) Safe Water Inc to deliberate on how best they would provide potable water to the town.
A rep of the NGO, Mr Acheampong assured that the NGO as a responsible institution never delays its project execution.
"We normally use at least three to four months to complete every project and hand over provided the land is readily available," Acheampong told the residents of Soko.
He noted that the Soko water project will provide 60,000 litres of water daily when the facility is completed.
On his part, Sokohene Nana Kofi Awiah II thanked the NGO for the support which he described as timely.
He said water problems have been one of the topmost challenges that have been confronting the town for decades.
In her brief contribution, the queen mother of the town, Nana Ama Kyaa III appealed to the residents who have ready lands around the town to voluntarily offer part for the project.
This she said, would enable the chief and his elders will compensate any donor of a land for the water project.