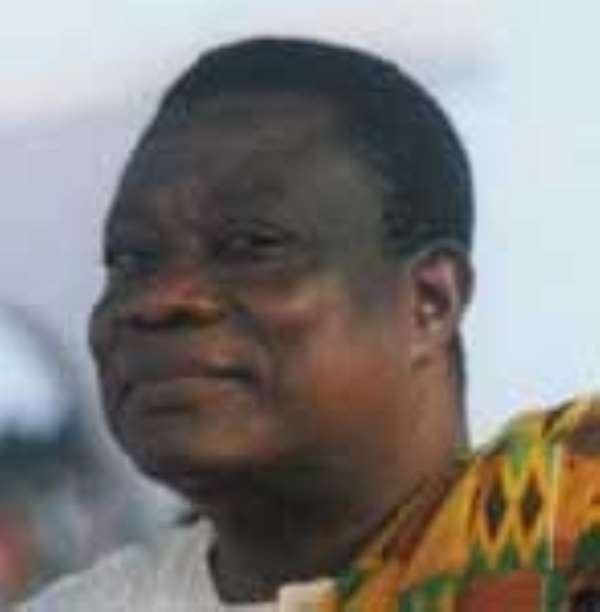 Professor John Evans Atta Mills, the former Vice President and aspiring presidential candidate of the National Democratic Congress (NDC) has stated that the nation must boldly admit that corruption exists in the nation and not just bark, but must bite at the canker.
According to him, the Transparency International (TI) report on corruption in Ghana, in spite of various laws passed ostensibly to curb corruption is very worrying and urged the rank and file of the country to desist from just barking.
"We should be humbled and accept that there is corruption in this country and that it is not only passing the laws that would reduce it but the laws must be enforced. We need to identify that it exists because laws alone do not work," he said.
The former Vice president who is confident of winning the forthcoming NDC presidential race scheduled for December this year, said, "the laws have to be enforced without fear or favour; but if the laws just exist on paper, it does not help. In fact the Transparency International's report only goes to confirm what we have been saying and have known so far."
Speaking to this paper in an interview, Prof. Mills, who has always been on the neck of the government on corruption, asserted that the 3.3 score by Ghana in the TI survey was an indication that, "The government's 'zero tolerance for corruption' has not worked. I am told that people are even questioning the basis of the assessment and I am surprised about that.
"In 1999, the same yardstick was used against the NDC regime and there was no hue and cry about the basis. What is good for the goose must be good for the gander," he noted.
The Law Professor, expressed disgust about how some prominent newspapers in the nation woefully refused to give prominence to the corruption findings on Ghana, which he noted would call for concerted moves to curb, saying, "the issues are very important and needs to be given attention. Corruption destroys the very fabric of society. It means that there is nothing genuinely done in this country."
He continued, "It is a major setback in the society just like falsehood also destroys society. It is therefore imperative for us to accept the report. We are even lucky that we have a body monitoring us and we must wholeheartedly accept it. We must not only bark, we must bite to show our willingness and preparedness to stamp out corruption no matter who is involved."
In a hypothetical statement as to whether the NDC would have accepted it assuming he and the NDC was in power, Prof. Mills, who spends a lot of his time at the campaign office interacting with party members said, "We would accept it willingly because it would destroy the nation."
Responding to whether the NDC stands the chance to make political capital or rejoice about the report on Ghana because the ruling government chastised them in 1999 with similar index, he said, "We are not going to rejoice over that because when the society crumbles it affects all of us. It would therefore be irresponsible for anybody to rejoice over that. We should rather feel sad. Let us help to preserve what we all cherish," he underscored.
Asked whether he was surprised about the trend, he said he was not because he and the NDC leadership have been drawing government's attention on various allegations of corruption but nothing is being done, except to be told that it was a perception and that "we should keep our perceptions in our minds."
On media reports that his health is deteriorating and hence the need to abandon his presidential dream, Prof. Mills smiled and said he was not worried about such negative and uncomplimentary reports about him and that he has forgiven everybody who indulges in moves to paint him anyhow.
"Bismark, you have seen me and you are talking to me.
I am not worried at all but my worry is that there is no iota of truth in that.
If there is truth in that I have no problem; but there is actually no truth in that. It is a grand agenda for some people to continue to peddle falsehood about me," he said.
Responding to speculations that he cannot speak beyond 15minutes based on Doctor's advice from South Africa, the NDC presidential hopeful laughed and discarded the report. "This is interesting. I come to this office and talk to a lot of people from morning till evening. What shows that I cannot talk for more than 15 or 30 minutes? When I was even returning from South Africa, I was not given any medicine apart from nasal drops and there is no medical report about that," he explained.
Prof. Mills, who is touring Brong Ahafo and Northern Regions this week, said various plans aimed at dampening his chances would not work, saying, "I will surprise all of them at the congress."