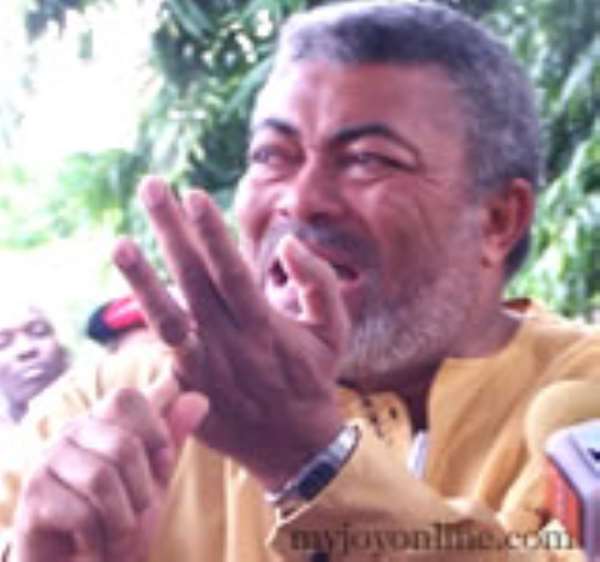 The Trades Union Congress of Ghana(TUC) says, the recent pronouncement by former President J.J. Rawlings undermines the democratic process in the country. In a strongly worded press release, the TUC, who stopped short of saying the statement amounted to treason, were under no illusion that such misguided appraisals are extremely one-sided and skewed observations of recent developments in the country.
In a stern statement that also had a slap on the wrist for the current President, J.A. Kufuor, the TUC regretted that he could publicly accuse the former president of a coup plot when other channels of addressing the issue were available. "We also find it necessary to observe that the view that since 2000 nothing positive has happened, is an extremely one-sided perspective of our recent history.
While every citizen has a role to play in our effort at progress and development, no one is indispensable to Ghana's forward march," the TUC stated. According to the TUC, as the largest and most representative organization of working people in the country, it finds it a duty to speak out against such negative and inflammatory tendencies before they are hardened into real dangers that could tear the country apart.
"Ultimately, it is ordinary working people, especially our women and children who stand to suffer the most when it descends into anarchy," the TUC stated. "We have observed for some time now the hostility that has characterized the relations between the President of the Republic, His Excellency J.A. Kufuor and the former President, His Excellency Jerry John Rawlings, especially in their public statements," stated the TUC.
The TUC noted that within the last two weeks there have been major political interventions by both the President and the former president, which, according to TUC, tends to poison the political atmosphere and heighten social tension. The statement said the pronouncements are deplorable, especially as they follow a predictable pattern of attacks and counter-attacks. On the other hand the TUC said, the call in response by the former president, J.J. Rawlings on the Military High Command to bring the government to order, is to be condemned without any equivocation.
"We wish to state categorically that in a republican democracy such as ours, the Military High Command do not have the power or authority to call the democratically elected government of the day to order," stated the TUC. "We of the Ghana TUC are of the humble view that ours is a law-governed democracy. If there is evidence implicating any person in coup plot, the government of the day and the security agencies must without hesitation, ensure that due process is upheld and that alleged conspirators are made to face the full rigours of the law", the statement added.
The TUC said it fully endorsed the statement issued by the Military High Command rebuffing any invitation to intervene in the political arena and their insistence that, the military be allowed to perform its professional and constitutional responsibilities