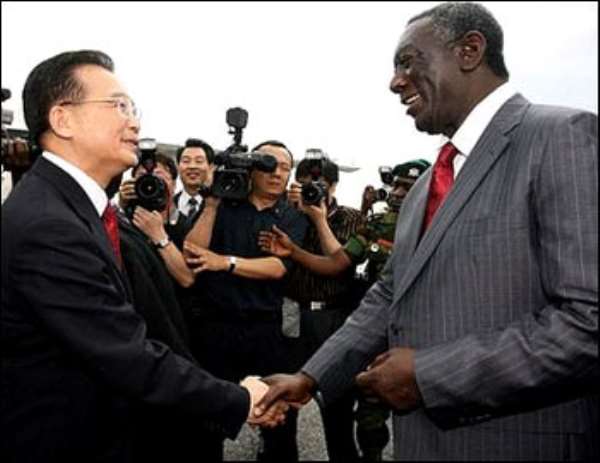 … World Bank warns over China loans
… But China defends action
The World Bank has sent a startling warning, citing Ghana together with Rwanda as countries sitting on a time bomb of "cycle of indebtedness" due to proposed Chinese loans that might pose a danger to the country's economy in future.
The Bretton Woods institution accused China of acting as a "free rider" by providing loans to states that have recently seen their balance sheets greatly improved, the Power and Interest News Report (PINR) reports on its website.
The report noted the concern of western leaders and the World Bank on China's loan practices in Africa. These practices have been criticized alongside China's alleged ignoring human rights issues and not promoting transparency in accounting.
The U.S. Treasury Department paper released on September 15 highlights concerns about a $500 million loan to Ghana and $2.3 billion in financing for a dam in Mozambique and asked China to be a "responsible stakeholder" in the international system.
China has defended its actions by claiming that aid payments should not be tied to politics. Beijing says it has promoted human rights issues, and worked with the global community to tackle some of Africa's most intractable problems. It notes that since 1990, China has participated in a total of 12 U.N. peacekeeping operations in Africa, and 1,273 Chinese peacekeepers are currently working for seven U.N. missions in Africa.
China said if the West honored its aid packages after canceling the debt, then Chinese loans would not be needed in these countries. "Business is business. We try to separate politics from business."
The Power and Interest News Report says however, that after analyzing China's record in Africa, it becomes clear that there is a strategic logic behind its lending practices. It says while China is primarily interested in securing natural resources, it also promotes a particular ideology: development before democracy. "Beijing is keen to export this model on which it has built its power, and many countries shunned by the West are attracted to this thinking. When China's model is questioned, the response can be harsh.
"It can be noted that in the run up to Zambia's elections on September 28, opposition candidate Michael Sata gained strong backing by criticizing Chinese business practices and threatening to renew ties with Taiwan if elected. Miners at the Chambishi copper mine rioted over pay and working conditions earlier this year, and Sata's candidacy tapped into growing resentment to Chinese investments. China warned it would cut diplomatic ties and put investments on hold if Sata were to win the election.
"In the end, a divided opposition failed to dislodge the incumbent president, and China's investments remained secure."
According to the report, anecdotal evidence suggests that similar anti-Chinese sentiment is spreading throughout Africa. Cheap Chinese imports threaten the sustainability of domestic manufacturers; working conditions on Chinese-funded infrastructure projects have been criticized; and China has come under fire for importing Chinese labour to complete the projects.
The report speculates that comparable heavy-handed responses from China may become the norm as its business interests draw ire from the poor in Africa.
Some observers in Africa however wonder if the World bank is justified in its criticism or whether it is part of what is becoming a turf battle between the West and China.