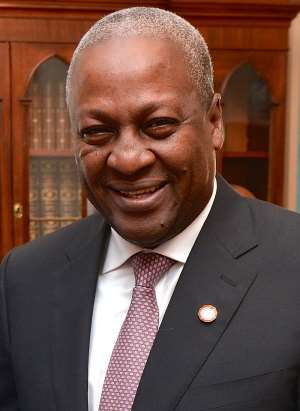 Work on the Sunyani Road Project in Kumasi popularly referred to as the Sofoline Interchange was continued. Works were ongoing on the Bekwai and New Edubiase Town Roads. President Mahama commissioned the Assin - Praso - Bekwai Road which includes a two - lane bridge over the Pra River.
Seventy Kilometres of Kumasi Town Roads were upgraded. Other ongoing major projects in the Ashanti Region before President Mahama left office include the Bomfa Junction - Asiwa - Bekwai, Bekwai - Ampaha - Asiwa, Kumawu - Timaate - Drobonso and Agyenkwaso - Anamobo - Gyadem Roads.
The new Edubiase - Anamobo, Amantia - Obuasewa and Obuasi - Junction - Dunkwa - Ayamfuri sections of the region's road network were also at various stages of completion. These include the Ataase Nkwanta - Owusukrom and the Manfo - Subriso - Fanti.
Agogo - Ananekrom - Dome 62 km roads were tarred and commissioned by President Mahama in September 2012. The 20 km Agogo - Kumawu Road was also tarred.
The Agogo town roads, Hospital Junction to Gyidiem; Juansa - Domeabra Road and Hwidiem bypass were 70% complete; the 20 km Kumawu - Nkwanta-Bonfobiri-Drobonso Town Roads were completed
Others are the 15 km Besoro-Bahankra-Agogo Road, 10 km Woraso-Attakrom Road, Nkwanta-Timati-Drobonso and
Sekyere Afram Plains Roads.
There were also many feeder roads in Drobonso, Dawia, Sene, Asougya, Anyinofi, Bosome Freho, just to mention a few.
The following roads were reshaped and rehabilitated: Dromankuma - Kyenkyenkura - Mbanaa, Nkwanta - Nyinase - Kropo, Sekyedumase - Nkranpo - Drobong, Aframso - Nkyensie and Dromankuma - Fakawa, etc.
These are among the many road projects President John Dramani Mahama's Government constructed in the Ashanti Region. He deserves commendation.
Anthony Obeng Afrane