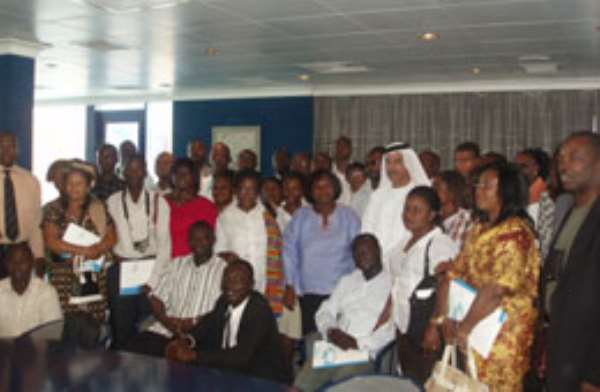 A 64-member delegation of business leaders from the West African state of Ghana has toured the Jebel Ali Free Zone as part of their current visit to Dubai.
The visitors are mainly owners or top management executives of some of Ghana's prominent business houses.
Ghanaian officials described the visit as an 'educational tour on international businesses in Dubai' aimed at understanding Dubai's successful business model.
The delegates met Jafza's Vice President for Sales, Dr. Mohammed Al Banna, and went on an extensive tour of the Free Zone's various award-winning facilities.
They were given a detailed presentation of Jafza's achievements and future plans, including the synergy that will be created when the Jebel Ali Airport is completed.
Mohammed Al Banna, Vice President, Sales, Jafza, said:
'Jebel Ali Free Zone welcomes the deep intense shown by the business leaders from Ghana. It is our policy to share the experience and expertise we have gained from a quarter century of successful growth as a model economic zone. We invite our friends from Ghana to strengthen relations between the two sides through business ventures that are mutually beneficial.'
The business representatives are in Dubai six weeks after a visit by Ghana's Vice President, HE Alhaji Aliu Mahama, who had urged his fellow-countrymen to emulate some of the strategies Dubai has adopted to build a thriving economy.
The Ghanaian businessmen were also briefed on expansion plans for Jebel Ali Port, including a massive boost to the port's capacity from the present 7-8 million TEU to 67 million TEU by the year 2030.
There are over 5,500 companies established in Jafza, including 140 Fortune 500 firms and dozens of internationally renowned brands.
Ghana, a prime exporter of cocoa, timber and minerals, has a growing trade link with Dubai.
Latest figures show a huge 41 percent jump in exports. Between 2004 and 2005, exports to Ghana rose from Dirhams 18.04 Million to Dirhams 30.69 Million.
Imports registered a 14.5 percent increase for the same period, from Dirhams 46.20 Million to Dirhams54.03 Million.