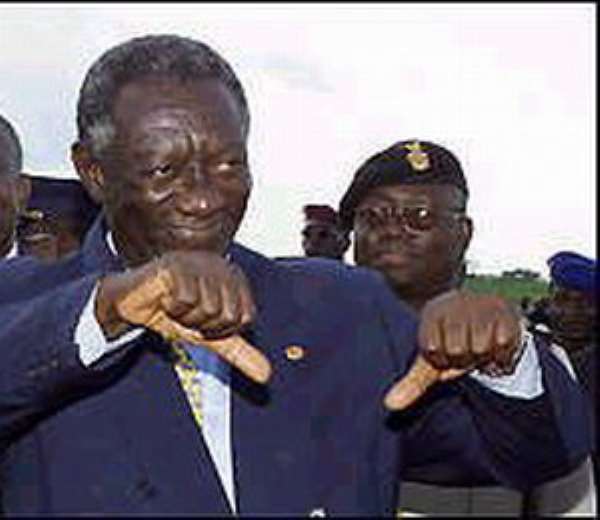 …Kufuor`s Visit Saved NPP
The Member of Parliament for Offinso North, Dr. Kofi Konadu Apraku has described President Kufuor's recent visit to Offinso as timely and "very important to the party's success in the impending by-elections" According to Dr. Apraku, before the President's visit to the area, the feeling among the people was not encouraging. This he said was because of the state of the Offinso-Techiman highway under-construction.
Speaking to newsmen from Offinso yesterday, Dr. Apraku said: "it is treacherous driving through that road.
Normally trips that have to take you one hour will today take you about two hours. It is inconvenient; it has caused damage to vehicles. It has caused many accidents and people are not happy. But after the Presidents recent visit and his assurance to Offinso-hene and to the people that the road would be completed soon, we are witnessing different feeling and I am very confident that we would win".
As compared to many NPP members who think the Offinso by-elections would not test the party's popularity, Dr. Apraku is of different view.
To him, the Offinso by-elections would be a test of NPP's popularity. He explained, "It cannot be the case that we will lose in this elections and it would not shake the very foundation of our party. Because it is a typical UP seat and we are replacing an NPP MP, it is really a test for us".
He said there is a feeling among a lot of NPP members that there is lot of frustration between the rank and file of the party people, and "If we can inspire them to rise to the challenge and campaign and win this elections, it would send a very good signal.
Dr. Apraku debunked the notion that by the land slide victory of the NPP in the 2004 General Elections, the NDC would find it difficult to catch up.
"The NDC seem to have found some level of confidence and they believe they are on the ascendancy and we need to stop them in Offinso", he said. He was very confident that nothing would stop the NPP from wining the Offinso South by-elections. "I think NPP has a very strong chance to win. We will win because traditionally it has been a UP/NPP seat. So the odds are in our favour", he said.
He noted that people believe that the NPP has than very good work and that they also believe that the government by and large has also done well. The Offinso North MP also noted even the government critics can attest to the fact that the government is moving in the right direction.
"We have embarked on very good economic policies, very good development programmes and that people would like us to continue", he said