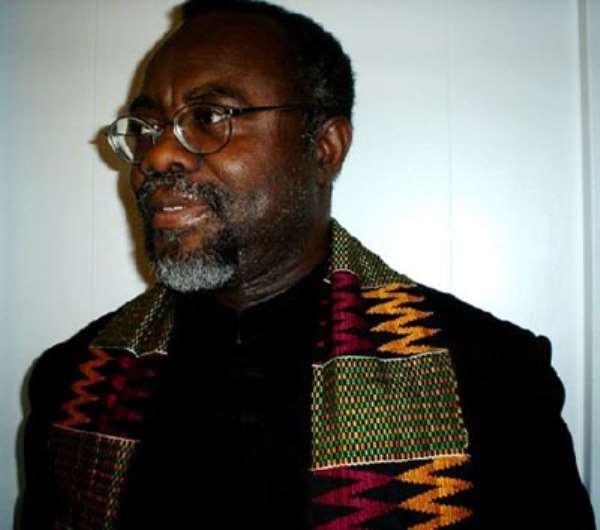 And so the clinical and cognitive basket-case was in Bamako, the Malian capital, of all places, the other day, whining puerilely to the effect that the government of the ruling New Patriotic Party had not been treating the career coup-plotter and mass murderer with royal dignity. Some reports even claimed that the post-colonial Ghanaian political abomination, seriously suffering from an ailment diagnosed by doctors at the Mustapha College of Neurosurgeons as "Post-Presidential Depression," had decried the fact that Mr. Rawlings had yet to take delivery of a purported palanquin allocated to him by an unwritten clause in the transitional provisions of the country's Fourth Republican Constitution.
Another interesting twist, added one report, was the adamant insistence of the Mary Jane-chomping, loquacious founder of the so-called National Democratic Congress (NDC) to the effect that the aforesaid constitutional provision also stipulates that Flt.-Lt. Rawlings' palanquin must be borne on the pate by the substantive Ghanaian premier, John Agyekum-Kufuor. And the reason? That Mr. Jeremiah John Rawlings single-handedly facilitated the political accession of the former.
In any case, what piqued this writer's interest, more than any other, was the allegation to the British Broadcasting Corporation (BBC-World Service Radio) – also known as "Fatherland Broadcasting Company" – by the former president that he (Mr. Rawlings) had accorded regal treatment to all of his predecessors – i.e. Generals Afrifa, Acheampong and Akuffo, among a legion others – by promptly dispatching their corrupt and tormented souls into the high heavens shortly after his so-called Armed Forces Revolutionary Council (AFRC) assumed reins of governance. Indeed, so bloody was his treatment of the above-mentioned national cormorants, enthused Mr. Rawlings, that many Ghanaians gratefully dubbed it "The red-carpet treatment."
The (P)NDC patriarch further lamented that he had been eagerly awaiting the exact same treatment meted the likes of Commander Utuka, Felli, Wellington and Yaw Boakye for so long that the continued and callous denial by the Kufuor administration of such unique privilege had, on more than several occasions, driven the former air-force chopper pilot to the brink of suicide.
"I am supposed to be enjoying some form of immunity; but I can assure you that I'm not being protected by any form of immunity. It they could peel it [i.e. the immunity which I am not in any form being protected by] off, they would have done it a long time ago. I'm not protected by the Constitution, nor the Western powers who are led by the CIA. My protection is in the idiotic and fanatical hands of the street vagabonds of Chokor and James Town"(Ghanaweb.com 6/9/05).
The ex-president also reportedly lamented that to-date no magician had offered to resurrect any of his predecessors, who he summarily executed shortly after the entrenchment of his June 4th "Devolution." As a result, the two-term constitutionally elected premier and a decade-long "benign" dictator bitterly complained that he had been virtually left without any peers or playmates. "I wish I could readily convert Ghana into Nigeria, so that I could go casino gambling and draft-playing with the high-timer likes of Generals Babangida and Buhari. I even hear Alhaji Shehu Shagari, whose best friend Dr. Limann I literally kicked to the curb, wouldn't mind sharing a lobe or two of kolanuts with sad-assed me," Mr. Rawlings reportedly lamented. And, in fact, a high-resolution photograph accompanying an article posted on Ghanaweb, titled "J J Must Go to Pantang Hospital – Ex-MP"(5/25/05), had our beloved Chairman Rawlings weeping hysterically like a child denied playtime and dabbing his bespectacled eyes with what looked like a snot-stained hankerchief. An avid Ghanaweb reader, John Asamoah Atimpoku, who E-mailed this writer the preceding article, added in a salacious postscript that the hanky was last known to have been used by the executed PNDC cabinet member Joachim Amartey-Kwei shortly before the latter was tied to a stake at the Teshie Military Range.
Interestingly, less than a month earlier, Togbe Rawlings was in the northeastern American city of Boston reportedly raving about a recent chance discovery that he made while cloroxing his teeth in front of the mirror. "Yes, the cabinet members of the Kufuor administration hate me to death. It's because those who are in office are very much diametrically opposed to what we of the National Decapitators' Congress believe in and what we stand for. For those of you who may not know, already, I am the junior twin-brother of Dr. Kwame Nkrumah, and these NPP lap-dogs were the same people who assisted the CIA, which adamantly refuses to protect me, to overthrow Dr. Kwame Nkrumah. This is why I am vigorously campaigning to get the Fourth Republican Constitution scrapped, so that I can come back to power and continue the progressive activities began by my elder twin-brother, Dr. Kwame Nkrumah. You know both of us had several honorary doctorates from American and British universities. *Kwame Okoampa-Ahoofe, Jr., Ph.D., teaches English and Journalism at Nassau Community College of the State University of New York, Garden City. He is the author of ten volumes of prose and poetry, including Sounds of Sirens: Essays in African Politics and Culture (2004), available from Amazon.com, iUniverse.com and Barnes and Noble.com.