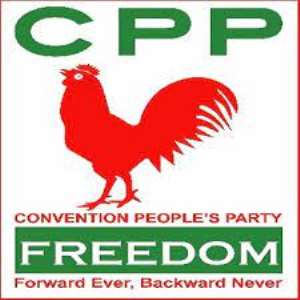 A leading member of the Convention People's Party (CPP) has called on all stakeholders to ensure that Assembly and Unit Committee members are given the powers that are due them so that they can effectively work towards the development of the country.
"Much suggestions and ideas have been raised by various persons about the support Assembly members are not getting hence what we see in our areas looks as if they don't exist," Mr Paul Kwame Anaman, a CPP Stalwart stated in a paper copied to the Communication for Development and Advocacy Consult (CDA Consult) in Tema.
Mr Anaman who is a local governance student also explained that it was a fact that could not be denied that Assembly members urgently needed support to help them function properly which could be monetary, direction or education.
This, he said may go a long way to awaken and equip them to educate their subjects to avoid indulging in activities that may hinder development such as blockage of gutters which causes flooding when it rains.
He also urged Ghanaians to avoid the construction of buildings in areas that are not assigned for individuals or companies to put up structures.
The CPP Leading Member added, "the time is due to redirect our minds to avoid selfishness and corrupt practices that go a long way to hinder the effectiveness of the assembly concept."
Mr Anaman, therefore, has admonished the government to upscale and allow local leaders to fully operate with powers due to them for development in local areas.
According to him, local leaders especially the Assembly and Unit Committee Members although have powers to effectively revamp development in various communities, the lack of full operation of their powers was retarding development.
Mr Anaman stated that "It has been decades now since the local government governance system was introduced to the Ghanaian citizenry, which seeks to ensure that governance trickle down to the least communities or persons at various localities.
He said in this effect, the local governance concept was introduced to elect leaders who may be in charge of governance at the electoral area level and also its accompanied Unit Committee levels.
Mr. Anaman, said "If I may ask what role and authority are given to such persons who are the Assembly and Unit Committee members?
"If they are the people to see to control activities at the Unit Committee level, then what are their strength, support and authority to handle the affairs of development in the areas that they exist?
He said the ministry which in charge of the local government should re-direct, educate, and support, Assembly members to walk the talk to effectively revamp development in their communities.
"On the other hand, if the Assembly and Unit Committee members know their role and therefore sitting adamant for things to go wrong, then the government and its local government unit should have a turnaround thought about the concept so that they can effectively take charge of activities that affect the people each time there is rainfall or otherwise," Mr. Anaman emphasized.
The CPP Leading Member noted that it was long overdue to have the feel and existence of such an important concept dying slowly in communities in the country hence Ghanaians must ask themselves the causes of the non-effectiveness.
He stressed that the government must fast-track its policies to determine if the root cause was monetary, political, social, or economic problems and find lasting solutions.
"If so then leaders should sit down to re-analyze the ideas and put in ingredient that will help the concept grow well to help support the development of the communities they exist," he said.