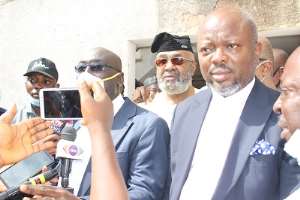 The suspended former NDC Chairman of the Ayawaso North Constituency, Tahiru Ahmed, has been accused of using some thugs to force his way back into the party by some executive members and supporters.
The macho men stormed the party's constituency meetings on a couple of occasions, threatening to beat up those present if they continued unless Ahmed Tahiru was re-instated into the party, according to the happenings in the party monitored by this news portal.
Ahmed Tahiru, who used to be Alhaji Said Sinare's driver was suspended by the party after lying to the police that the latter had given guns to some of the party's youths in order to resort to violence prior to the 2020 election.
He handed over two guns to the police, a pump action rifle and an AK 47, as part of the guns the NDC bigwig gave to the youth.
As a result, Alhaji Said Sinare was apprehended and charged with conspiracy to commit crime and unlawful possession of firearms.
However, police investigations revealed that the allegations were false, forcing the prosecuting officer, Sgt. Thomas Sarfo to inform the Kaneshie District on Thursday, October 29, 2020 that the charges against the NDC Vice-Chairman had been dropped.
The court ordered Alhaji Sinare to be released.
The NDC hierarchy was outraged by Tahiru Ahmed's behavior and suspended him, later re-suspending him after rejecting an apology written on his behalf by the constituency MP, noting that he had not confessed to wrongdoing nor apologized to the Vice-Chairperson.
Since then, the suspended former party official has used threats and violence to force his way into the party.
Ahmed Tahiru allegedly organized landguards to cause mayhem at the party's Regional office on Friday, May 13, 2022, demanding that Tahiru be reinstated.
They fired warning shots just outside the Regional office, scaring away onlookers. They allegedly went to the constituency meeting the next day in order to cause chaos.
On Friday, May 20, 2022, they stormed the party's constituency meeting with languards and machomen again, scattering the crowd and shouting that unless Ahmed Tahiru is reinstated, there will be no more meetings.
The macho men, however, fled after learning that police calls had been made. The constituency executives later reported the incident to the Kotobabi police, who are currently conducting an investigation.
Some NDC supporters are wondering why the party's leadership has not punished Alhaji Tahiru for setting up a senior member of the party for arrest and tarnishing the party's image.