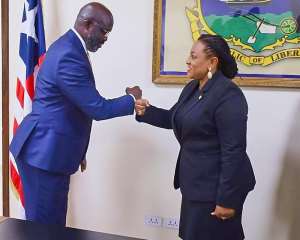 Madam Nkrumah and President Weah
President of Liberia George Manneh Weah has reaffirmed Liberia's commitment to ECOWAS' goals and objectives for regional peace, stability, and reintegration.
He, however, called on ECOWAS to take decisive and expedient interventions in resolving the crisis in Guinea.
He also assured ECOWAS of the Liberian Government's commitment to providing an enabling environment for ECOWAS to execute its mandate under the Office of the Resident Representative.
President Weah made the remarks during a short ceremony in Monrovia, Liberia during which the newly appointed Resident Representative of the President of ECOWAS Commission to Liberia, Madam Josephine Nkrumah presented her letters of credence to the President of Liberia in Monrovia.
Madam Nkrumah, who is a former chairperson of the National Commission for Civic Education (NCCE) in Ghana after the presentation held discussions with President Weah and high-level members of his cabinet.
She also conveyed fraternal greetings from the President of the ECOWAS Commission, Jean Claude Kassi Brou to President Weah a statement from the office copied to the Communication for Development and Advocacy Consult in Tema stated.
Madam Nkrumah commended President Weah for his commitment to ECOWAS' goal towards peace and stability in Liberia, the sub-region, and specifically his support for decisions that have come out of the various ECOWAS summit relative to peace in Guinea and Mali.
She also congratulated the Liberian President for his role as the first Head of the Inter-Governmental Action Group against Money Laundering in West Africa (GIABA) which is an ECOWAS agency responsible for strengthening the capacity of member states for the prevention and control of money laundering and terrorist financing in the region.
On behalf of ECOWAS, Madam Nkrumah assured President Weah of ECOWAS' commitment to supporting the peace and stability of Liberia and its young democracy.