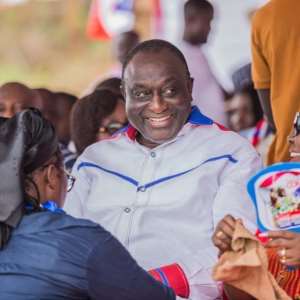 New Patriotic Party (NPP) presidential candidate hopeful, Mr. Alan John Kwadwo Kyerematen has been admonished to resign from his position as Minister of Trades and Industries to enable him focus on his presidential ambition.
According to NPP leading member, Dr. Nyaho Nyaho-Tamakloe, it will be in the good interest for Alan Kyeremanten to resign from government in principle.
Speaking on Metro TV, Dr. Nyaho Nyaho-Tamakloe stated, "I, Nyaho, would have followed him to any place, but he didn't have the courage. If Alan had done that, he would have path a way for his political future."
He added, "Alan I expected to have resigned in principle some time ago and if he had done that", the former Ambassador to Serbia stated in an interview with host, Bridget Otoo, monitored by reporter, Kwabena Danso-Dapaah.
Dr. Nyaho Nyaho-Tamakloe, who openly declared his support to Alan John Kwadwo Kyerematen in the upcoming NPP's presidential primaries, described the Trades and Industries Minister as a man with principles.
"I saw Alan as a principle person because people who have principles, their integrity is on the line and if you have to be a leader, that is the key point," he emphasised.