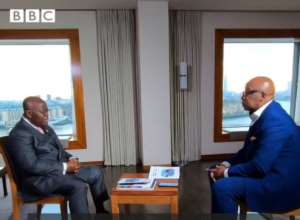 In a recent interview, Peter Okwoche, a Senior Journalist of BBC, on the UK-based Newscaster programme 'Focus on Africa' chastised President Nana Addo Danquah Akufo-Addo, the President of the Republic of Ghana, for the economic fallout in Ghana. The BBC journalist described the state of Ghana's economy as horrible. The host blatantly suggested that Ghana's economy in its current state is doing terrible with high cost of living and increasing fuel prices among others.
The President however, maintained that the current state of affairs of Ghana's economy is a result of global events in which Ghana is not in isolation.
The journalist also asked about the government's recently passed Electronic Transfer (E-Levy) law.
The President was a guest on the April 4, 2022 edition of the BBC's Focus on Africa hosted by Peter Okwocwe.
The suggestion by the BBC journalist was surprising, because according to BBC's own report, UK inflation is rising at its fastest rate for 30 years as fuel, energy and food costs surge. And that the price rises are putting increasing pressure on household budgets. Was Peter Okwoche unaware of their own report on how "terrible" the UK economy is doing in a 30-year history?
From April, fuel bills for about 18 million UK households on standard tariffs went up by an average of £693 when the energy cap went up.
Some 4.5 million prepayment customers saw an average increase of £708. Fuel prices are expected to go up again in October this year when the energy cap is next reviewed.
The rate of VAT - the tax paid when buying goods and services - is also going up for some businesses. The government reduced the rate paid by hospitality and tourism firms to 12.5% in July 2020, to help them recover from the pandemic.
However, from 1 April, VAT returns to the standard rate of 20%. Some companies have said they will pass this increase on to customers.
On 6 April, companies, workers and the self-employed will start paying 1.25p more in the pound in National Insurance contributions under the Health and Social Care Levy.
Air passenger duty and vehicle excise duty rates are also increasing this month, as is the cost of stamps, and water bills in England and Wales.
Food prices have also gone up sharply. Petrol prices have risen to record levels.
Higher interest rates are making mortgage payments more expensive for some homeowners.
Regulated rail fares in England have already gone up by up to 3.8% in England and Wales, the highest fare rises for nine years.
Causes of current rising in prices
BBC surprisingly explained to UK citizens the main reason for the economic fallout as the rising global price of energy which is affecting companies across the whole economy.
Wholesale gas prices in particular have risen sharply over the past year, forcing energy prices up, and putting a number of suppliers out of business.
In the 12 months to February, prices rose 6.2% on average. That means they are now going up at their fastest rate for 30 years.
The Office of Budget Responsibility (OBR), which publishes economic forecasts twice a year, has warned that Russia's invasion of Ukraine could have "major repercussions for the global economy", and push energy, petrol and food costs even higher.
In the 12 months to February, prices rose 6.2% on average. That means they are now going up at their fastest rate for 30 years.
But the OBR has suggested that the fallout from the war in Ukraine could push inflation to a 40-year high of 8.7% in the final three months of 2022.
The Bank of England has also warned that inflation could hit double digits if rising fuel prices mean the energy price cap goes up again when it next changes in October.
Average pay increases aren't keeping pace with inflation.
Figures from the ONS show that wages rose by 3.8% between November and January. But when you take inflation into account, regular pay actually fell by 1% compared to 12 months ago.
The Bank of England's traditional response to rising inflation is to raise interest rates. It has done this three times in the past few months.
This can benefit savers, but means some people with mortgages see their monthly payments go up.
The idea is that when borrowing is more expensive, people will have less money to spend. As a result, they will buy fewer things and prices will stop rising as fast.
But when inflation is caused by external forces, such as the global squeeze on energy prices, then this might not be the answer.
The government might choose instead to cut taxes for consumers on items that are rising quickly.
Chancellor Rishi Sunak cut fuel duty by 5p per litre in his Spring Statement, for example, although the RAC motoring group said the cut was not being fully passed on to consumers at the pump.
BBC explained why the cost of living was going up. According to BBC report on January 20, 2022, seven reasons were given for the high cost of living around the world. These were:
1. Rising energy and petrol prices
Oil prices slumped at the start of the pandemic, but demand has rocketed back since, and have hit a seven-year high.
In the US gasoline currently costs an average of $3.31 a gallon - up from $2.39 a gallon a year ago. It's a similar story in the UK and the EU.
The price of gas has also shot up, leaving people around the world with eye-watering central heating bills. Demand from Asia has driven up prices, along with a cold winter in Europe last year, which depleted gas reserves.
2. Goods shortages
The price of many everyday consumer goods jumped during the pandemic.
Consumers stuck at home during lockdown last year splashed out on household goods and home improvements because they couldn't go to restaurants or on holiday.
Manufacturers in places such as Asia - many of which faced shutdowns due to Covid restrictions - have struggled to keep up with demand since then.
It's led to shortages of materials such as plastic, concrete and steel, driving up prices. Timber cost as much as 80% more than usual in 2021 in the UK and reached more than twice its typical price in the US.
Major US retailers Nike and Costco have put up their prices because of higher supply chain costs.
And there's a shortage of microchips, which are vital components in cars, computers and other household goods.
3. Shipping costs
Global shipping companies - which move goods around the world - have been overwhelmed by surging demand after the pandemic.
It's meant retailers have had to pay a lot more to get those goods into stores. As a result, prices have been passed on to consumers.
Sending a single 40ft container from Asia to Europe currently costs $17,000 (£12,480) - 10 times more than the year before, when it was $1,500 (£1,101).
It's been accompanied by a rise in air freight fees and made worse by a lorry driver shortage in Europe.
Transport bottlenecks appeared to be easing in December, with the US starting to get on top of record congestion at its ports.
But Omicron and the emergence of future Covid variants could reverse these gains.
4. Rising wages
Many people quit the workforce or changed jobs during the pandemic.
In the US, April saw more than four million people quit their jobs, according to the Department of Labor - the biggest spike on record.
As a result, firms are having problems recruiting staff such as drivers, food processors and restaurant waiters.
A survey of 50 major US retailers suggested 94% were having trouble filling empty roles.
As a result companies are having to put up wages or offer signing-on bonuses to attract and retain staff. McDonald's and Amazon are offering hiring bonuses ranging from $200 to $1,000.
Those extra employer costs are again being passed on to consumers. Global clothing brand Next have blamed planned price rises for 2022 partly on climbing wage costs.
5. Climate impact
Extreme weather in many parts of the world has contributed to inflation.
Global oil supplies took a hit from hurricanes Ida and Nicholas passing through the Gulf of Mexico and damaging US oil infrastructure.
And problems meeting the demand for microchips were worsened after a fierce winter storm closed major factories in Texas last year.
The cost of coffee has also jumped after Brazil, the world's largest producer, had a poor harvest following its most severe drought in almost a century.
6. Trade barriers
More costly imports are also contributing to higher prices. New post-Brexit trading rules are estimated to have reduced imports from the EU to the UK by about a quarter in the first half of 2021.
Roaming charges are returning for many UK travellers visiting Europe this year.
Separately, US import tariffs on Chinese goods have almost entirely been passed on to US customers in the form of higher prices.
Chinese telecoms giant Huawei said last year that sanctions imposed on the company by the US in 2019, were affecting US suppliers and global customers.
7. The end of pandemic support
Governments worldwide are unwinding support given businesses to help with the impact of coronavirus.
Public spending and borrowing increased across the world during the pandemic. This led to tax rises that have contributed to the cost-of-living squeeze, while most people's wages remain unchanged.
Many developed economies have had policies designed to protect workers - such as furlough - and welfare policies to protect the lowest paid.
Some economists suggest these policies could also push inflation higher as the support measures draw to a close.
The Russian Aggression Against UKraine
A BBC report explained to citizens of UK the five ways the Ukraine war could push up prices. The report said that the severe sanctions on Russia aim to isolate the country and create a deep recession there would create economic fallout that would also be felt by people around the world.
The sharp rise in the prices of things from oil and metals to wheat is expected to push up the cost of many everyday items from food to petrol and heating.
1. It might cost (even) more to heat your home
People in the UK and Europe are already paying high prices for energy and fuel.
The Russia-Ukraine conflict has so far driven these even higher and caused the price of oil to jump to level in almost 14 years, while wholesale gas prices have more than doubled.
If gas prices stay at that level, energy analysts have warned that household fuel bills in the UK could reach as much as £3,000 a year, while average UK petrol prices have repeatedly hit record highs, with the latest price at 155p and diesel at 161p.
Russia is the second-biggest exporter of crude oil, and the world's largest natural gas exporter, which is vital to heating homes, powering planes and filling cars with fuel.
The UK gets only 6% of its crude oil and 5% of its gas from Russia, but the EU sources nearly half of its gas from the country.
If one country reliant on Russian supplies receives less gas, they have to replace it, impacting the supplies of gas for other countries - that's why British energy prices and bills are still affected in a similar way to European ones.
There are fears President Vladimir Putin might "weaponise" Russia's natural resources by reducing supplies of gas to Europe in response to sanctions. Politicians in Germany are calling for a "national gas reserve" to be created to protect consumers from price shocks.
Meanwhile, the US is discussing a potential ban on buying Russian energy which has also fuelled price rises.
Plane fuel is also linked to the price of crude oil and Ryanair boss Michael O'Leary has warned tickets for this summer will be higher than 2019, partly because of the rise in the price of oil.
2. Your food shop could cost more
UK food producers don't import many items from Russia or Ukraine, but prices here may still rise because of an increase in associated costs, such as tinned cans and packaging and transport.
Meanwhile, the cost of everyday food items might rise in places like Turkey and North Africa, which rely on wheat and corn from Ukraine and Russia.
Both countries, once dubbed "the breadbasket of Europe", export about a quarter of the world's wheat and half of its sunflower products, like seeds and oil. Ukraine also sells a lot of corn globally.
Analysts have warned that war could impact the production of grains and even double global wheat prices.
More than 40% of Ukraine's wheat and corn exports went to the Middle East or Africa last year - and disruptions to supply could affect availability in these areas.
The UK, by contrast, typically produces more than 90% of the wheat consumed in the country. But farmers here might find themselves paying more for fertiliser, which is one of Russia's biggest exports.
3. Your mortgage repayments may rise
Inflation, which measures how fast the cost of living rises over time, hit 7.5% in January in the US - the highest level seen there since February 1982 - and rose by 5.5% in the UK.
But one economist has warned it could rise close to 10% in major Western economies if the cost of energy and food is pushed up by dwindling supplies cause by the Russian-Ukraine conflict.
Such a figure might encourage the Bank of England and the US Federal Reserve to increase interest rates. The idea is that when borrowing is more expensive, people will have less money to spend. As a result, they will buy fewer things, and prices will stop rising as fast.
But in the UK, for example, about 2.2 million homeowners with mortgages linked to the Bank of England's base rate would see repayments go up, putting further pressure on household budgets that are already being squeezed by the cost of living.
4. Your pension might fluctuate - but don't panic
Russian stocks crashed by as much as 45% in the wake of the Ukraine invasion with trading subsequently suspended, with banks and oil companies among the worst affected.
It also led to steep falls on stock markets elsewhere around the world: in Europe the UK's FTSE 100 index has fallen over 6% since Russia crossed into Ukraine while Germany's Dax index is nearly 10% lower.
Many people's reaction to stock market changes is that they are not directly affected, because they don't invest money in stocks and shares. But there are millions of people with a pension whose savings are invested in the stock market.
If widespread falls in share prices are sustained then it's likely to be bad news for pension savers because the value of their savings pot is influenced by the performance of investments.
Some investors or savers might look to protect their money or assets by moving them to traditional "safe havens", like gold, especially as the markets are likely to see more volatility as the crisis develops.
5. DIY and cars could cost more
DIY or 'do-it-yourself' activities such as making or repairing your home and other things and prizes of cars would cost more.
As a leading commodities exporter, Russia is one of the world's largest suppliers of metals used in everything from aluminium cans, to copper wires, to car components, such as nickel, which is used in lithium-iron batteries, and palladium, which is used in catalytic converters.
Everyday goods - which may seem far removed from the conflict - may rise as a result of it.
"When you buy your drinks can made of aluminium, or when you make renovations to your house and you need copper for your wiring, all of those prices do go into the overall inflationary pressure," the boss of the London Metals Exchange has warned.
If Vladimir Putin decided to cut off supplies of these metals in retaliation to sanctions, existing supply problems could worsen, with car firms having to find alternative sources.
Russia is also home to manufacturing hubs for brands like Stellantis, Volkswagen and Toyota. Some production has already been paused at Russian car plants, while shipping and delivery companies halting activity to and from the country is likely to impact the availability of new cars.
Euro area annual inflation up to 7.5%
Euro area annual inflation rose to 7.5% in March 2022, up from 5.9% in February according to a flash estimate from Eurostat, the statistical office of the European Union.
Looking at the main components of euro area inflation, energy rose to the highest annual rate in March (44.7%, compared with 32.0% in February), followed by food, alcohol & tobacco (5.0%, compared with 4.2% in February), non-energy industrial goods (3.4%, compared with 3.1% in February) and services (2.7%, compared with 2.5% in February).
The euro area consists of Belgium, Germany, Estonia, Ireland, Greece, Spain, France, Italy, Cyprus, Latvia, Lithuania, Luxembourg, Malta, the Netherlands, Austria, Portugal, Slovenia, Slovakia and Finland.
The current economic situation, the increasing inflation and high cost of living are not problems facing only one country, but all countries in the world. It is therefore irresponsible and unfair for anyone to chastise any person in charge of economic affairs of any country. Peter Okwoche's behaviour was therefore pungent and unprofessional.