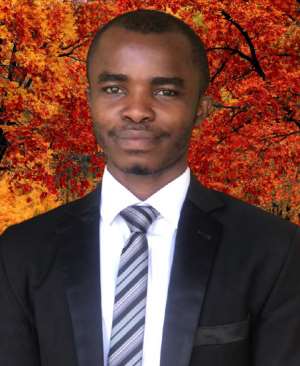 Mathias Mawuli Ametefe
Let me seize the time to commend Hon. Henry Quartey, the Greater Accra Regional Minister for his undying commitment in putting the city of Accra on the global map especially for his resolve to make the capital a cleaner and healthier city for all to live in. The "operation clean your frontage" which requires citizens within Accra to rid their immediate surroundings of filth is an initiative which is in the right direction and its' importance cannot be gainsaid. This is also in tandem with the vision of the President of the republic to make Accra the cleanest city in Africa when he took office. The opportunity cost of this initiative is the clearing of people who make their livelihood from selling on pavements and streets. Indeed, every good thing comes at a cost and so, as we wish to have a clean, aesthetically beautiful city, we also need to cope with the inconveniences that come with it. I will however, entreat the Regional Minister and his MMDCEs do their best in finding alternative locations within their jurisdiction for the affected people to mitigate the dire economic impact on their lives and that of their dependents.
It is said that good deed is worth emulating. I would therefore call on all Regional Ministers to collaborate with their MMDCEs to replicate what is happening in Accra in their jurisdictions to bring about a cleaner and healthier Ghana. All well-meaning Ghanaians are implored cooperate with the authorities and embrace this initiative to keep the environment clean.
On many occasions, Ministers, Members of Parliament and other citizens have called for the re-introduction of "Samasama" or "Tankas", that is Sanitary Inspectors or Environmental Health Officers to enforce the laws on sanitation to enable us as a nation to get rid of filth which has engulfed our cities and towns. Of course, these are genuine calls since strict enforcement of laws is key in ensuring discipline. What people may not have been aware of is that, the "Samasama" people have never gone into extinction. As a matter of fact, every District Assembly in Ghana has a good number of Environmental Health Officers who have been going round communities to enforce the health and sanitation laws of their respective Assemblies with many sanitary offenders successfully prosecuted in courts and fined various sums of money. What is missing is however, is the seldom publication of such cases in the media as many people have less interest in sanitation issues. In fact, many people pretend to be concerned about sanitation issues but actually see sanitation as a "dirty word".
It is noteworthy that, the government of Ghana already has over 6,000 Environmental Health Officers who were trained with state funds in the nation's three Schools of Hygiene in Accra, Ho and Tamale and posted to all the 275 MMDAs to among other things enforce Environmental Health and Sanitation Laws of the state and byelaws of their respective Assemblies. For the purpose of emphasis, the only group of professionals who are legally mandated to enforce sanitation laws and who have been given prosecutorial powers under the laws of Ghana to enforce Sanitation and Environmental Health Laws are the Environmental Health Officers popularly known as Tankas who of the MMDAs.
The only reason why as a nation, we seem to think the Samasama people do not exist is the pretense of present and past governments on their commitment in solving sanitation problems. The truth is they do not actually care. It is said that "a soldier walks on his stomach". Though the current number of Environmental Health Officers in the country may be inadequate vis-à-vis WHO standards, proper resourcing of Environmental Health Officers would do the magic. How could Public Health Law Enforcement agents be efficient and effective without uniforms, dedicated vehicles and other logistics needed to carry out their duties? What would be the motivation when after receiving training in Health Training Institutions (Schools of Hygiene) and taking the same allowance as trainees with their Nursing and other Health Trainee counterparts, they (Environmental Health Officers) are paid far lower than their colleagues recruited in the Ministry of Health and Ghana Health Service even though they have same and/or similar qualification and are regulated by same professional council with their only crime being that a government policy says they should be employed under the Local Government Service?. It is trite knowledge that the best resource for any organization is human resource. If indeed government is committed to improving sanitation in the country, then, the earlier it does the proper thing in investing in the human resource capacity, ensuring fairness in remuneration and providing the needed logistics to Environmental Health Officers, the better.
The establishment of the Ministry of Sanitation and Water Resources (MSWR) as well as the promise to introduce Sanitation Marshals and Sanitation Brigade to augment the work of Environmental Health Officers of the MMDAs in enforcing sanitation bye-laws of the country were indications of H.E. President Akuffo Addo's interest in helping solve sanitation problems of the country. It is however sad to note that, apart from the establishment of the MSWR, the remaining promises remain unfulfilled and even with the MSWR, the Actual Sanitary Inspectors (Environmental Health Officers) till date are not under the MSWR but rather operate under the Local Government Ministry. The Sanitation levy and all other levies that are paid by the good people of Ghana are used to pay waste management companies in the private sector without recourse to the needs of the actual statutorily mandated Sanitation Law Enforcers.
To this end, I will call on the government to consider resourcing Environmental Health Officers across the country to enable them deliver effectively. I do not believe that buying 275 pickups for Environmental Health Departments and providing them the needed resources is beyond the reach of the government.
The government should endeavor to properly channel sanitation related resources that take a chunk of our budget as a nation into resourcing, retooling and rebranding of Environmental Health Departments of the MMDAs.
Environmental Health Officers of the MMDAs should fully embrace and use their already rich technical know-how, powers to enforce laws and to prosecute sanitary offensers in ensuring the success of the operation clean your frontage.
Regional Ministers and MMDCEs should fully involve Environmental Health Officers whose legal mandate it is to ensure a clean and hygienic environment.
The media should endeavor to publicize the work of Environmental Health Departments especially prosecution of cases in court to sensitize the citizenry on sanctions for flouting sanitation laws.
Environmental Health is not dead! Samasama is not dead!! Tankas is still around!!!
God bless our homeland Ghana and make our nation great and strong.
By: Mathias Mawuli Ametefe
Columnist/Health Tutor
Email: [email protected]