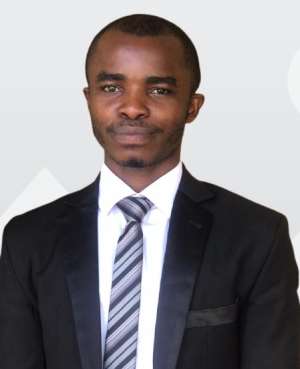 Mathias Mawuli Ametefe
The initiative of the Government of Ghana to plant 5million tress in a single day as part of the Green Ghana Project in commemoration of the World Environment Day is a valiant one in safeguarding our environment. This comes in handy especially in the face of the rapid degradation of our lands and deforestation as a result of illegal mining activities, logging of trees for various purposes and increasing estate developments. More importantly, this initiative comes at a critical moment when the world is facing serious climate change problems caused various factors including deforestation which threatens the very existence of humans on the surface of the earth.
The keen participation of all well-meaning Ghanaians including key traditional and religious leaders, public and private institutions and all well-meaning Ghanaians for that matter in planting trees across the country underpins the seriousness that was attached to the commemoration of this all important day and rightly so, because it is said that, when the last tree dies, the last man dies.
Inasmuch as the massive planting of trees is commendable, the begging question on the minds of most is the commitment of all actors, especially, the government in ensuring these trees grow to see World Environment Day 2022 and beyond. One would not be far from wrong to say that the biggest problem of Ghanaian governments is sustainability of programs and projects and maintenance culture. Will this gallant move of "Reimagining, Recreating and Restoring" our ecosystem to fight climate change and biodiversity as suggested by this year's theme for the commemoration be followed by intentional sustainability measures or it will end up as one of the normal projects that are started but never completed?
There are no two ways that, we all as a people, must play our part in consciously preserving the environment for own good. To this end, watering of the trees planted across the country, and protecting them from destruction should be seen as communal and individual responsibility by all well-meaning Ghanaians. I would simply put it that each Ghanaian should make it a point to at least "nurture a tree to restore nature".
The most dangerous threat to the very survival of these young trees which is likely to cut short our vision of greening Ghana is the issue of stray animals on our streets. On daily basis, stray animals including goats, sheep and cattle are seen roaming the streets of our communities of which the so called first class residential areas are not spared of this worrying situation. Imagine one stray goat chewing five of these young trees daily, with the number of goats alone we see on our streets, how many will be left in the next one year? The earlier something is urgently done about this menace, the better. Prof. Chris Gordon, former Director for Environment and Sanitation Studies, University of Ghana, was cited in a Ghanaweb publication on 11th June, 2021 as saying stray animals are a challenge to the national tree planting agenda and called for drastic measures to be taken to contain the situation.
Environmental Health Departments of the 260 Metropolitan, Municipal and District Assemblies, charged with the statutory mandate of controlling stray animals in their respective Assemblies as contained in the Local Governance Act, 2016 (Act 936), the Public Health Act, 2012 (Act 851) and Section 300 of the Criminal and Other Offences Act, 1960 (Act, 29) should ensure as a matter of urgency that these stray animals are off the streets of our communities to give hope to the sustainability of these trees and to prevent the nuisance and health threats posed by these stray animals.
It is also a fact that, though Environmental Health Officers have the power to initiate court processes and put owners of stray animals before court, in most cases, owners of stray animals cannot be readily identified, which makes it extremely necessary for the stray animals to be impounded and kept in animal pounds owned by the MMDAs for owners to either pay a fine for their animals to be released to them in default of which such animals are auctioned and the monies kept in the Assemblies' coffers.
The most worrying situation however is that, while about Sixty percent (60%) of MMDAs do not have animal pounds constructed by the Assemblies for the control of stray animals, virtually none of the 260 MMDAs has a Truck or any form of vehicle to visit the various communities in their catchment areas to keep and transport impounded stray animals. As a matter of fact, very few Environmental Health Departments have a single pick up vehicle for their official duties which makes their movement to carry out such essential mandates nearly impossible. Imagine a team of people identifying themselves as Environmental Health Officers who supervised the arrest of your animals stopping a Taxi to put your arrested animals into them. The absence of Official vehicles has led to countless attacks on Environmental Health Officers by people who suspect that their animals are being stolen since they are not transported in any official vehicles but in Taxis.
Accordingly, I would call on the first Gentleman of the land, President Nana Akuffo-Addo to as part of his commitment of ensuring a sustainable Green Ghana, ensure the provision of Trucks, Official Vehicles and other Logistics to the Environmental Health Departments of the 260 MMDAs of the country to enable them deliver effectively, especially in the control of stray animals.
A Green Ghana is Possible, Nurture a Tree to Restore Nature.
By: Mathias Mawuli Ametefe, Environmental Health Officer/Health Promotion Specialis
Email: [email protected]