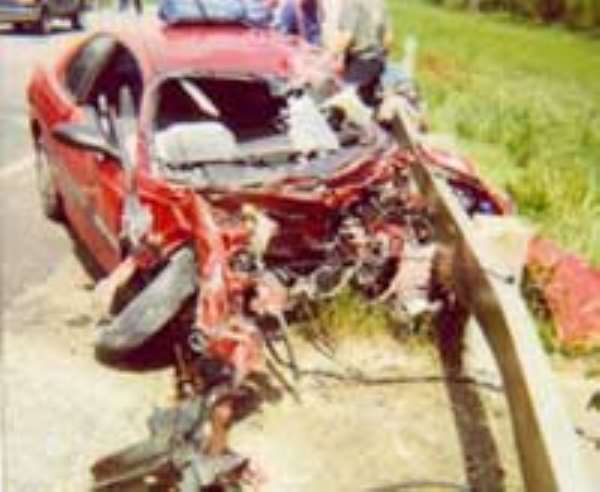 The Eastern Regional Coordinator of the National Disaster Management Organization (NADMO), Mr. Seth Ahyia is right when he recently stated that most common disasters in Ghana were human-induced. What a bone-chilling observation. Death and injuries on our roads appear to be leading in this human-induced disaster. One cannot fail to observe the callousness and absolute recklessness of some motorists on the roadways of Ghana. The senseless over speeding, the risky overtaking and the abject disregard for life by some motorists should stop immediately. We are a developing nation and we cannot afford to keep on killing our people at the rate we are going. A country's greatest asset is her people and they need to be protected. The rate of motor-traffic related injuries put a lot of strain on our already over-stretched health system. For instance, the Eastern Region alone, according to the statistics given by the Regional Commander of the Motor Traffic and Transport Unit lost 228 lives with 1,498 injured people in 1,145 vehicular accidents in 2002. In 2003 (and still counting) the deaths stand at 112 with 743 injuries. Nationwide, according to Madam Fatima Fuseini, Chief Superintendent of Police, more than 10,000 people die annually. This year alone, from January to June 716 people have died and 4,576 have been deformed through road accidents. These are not just numbers. They do represent human beings and all Ghanaians including everyone who cherishes life has to be concerned. I applaud the efforts of the National Road Safety Commission and the Motor Transport and Traffic Unit for the road safety education programs. However, a lot needs to be done and the appropriate governmental agencies should take the lead, followed by non-governmental bodies and the general populace. There is no doubt that most roads need to be rehabilitated, but the human elements contributing to these vehicular accidents still remain overwhelming. I humbly wish to suggest the following as probable measures to reduce the incidence of the high rate of vehicular accidents on the roads in Ghana: 1. Driver education should be intensified and strictly made a prerequisite for the issuance of a driver license.
2. The police, although their resources are limited, should strictly enforce speeding zone laws.
3. The police should be empowered to issue summonses (tickets) payable at designated police precincts/stations or to the courts. The alternative is to prosecute offenders through to the courts.
4. Passengers should be empowered to protest and report to the police drivers who speed excessively, are reckless, and show abject disregard to life and property. This requires a lot of public education on the part of the police, Ministries of Transportation and Information.
5. Driving rights should either be revoked or suspended for repeat offenders.
6. Reinstatement of driving rights would be contingent upon several factors including attending classes on safety and defensive driving.
7. As part of the road safety education organized by the National Road Safety Commission, commercial motorists should be required to attend road safety education either annually or bi-annually. Evidence of attendance should count towards insurance premium reduction. However, it should be mandatory that all motorists who have been involved in any motor accident attend a road safety course at their own expense.
8. Road signs should be improved to warn motorists of dangerous areas regarding overtaking, road bumps and other hazards.
8a. Most so called-highways in Ghana intersect local streets with little or no warning signs to the motorist. The Takoradi/Elubo highway has impressive speed bumps/rumbles from Takoradi to Agona junction. These warning measures before reaching towns/villages should be replicated in other parts of the country to reduce the incidence of accident rates.
9. Immediate removal of derelicts (broken down vehicles) from roadsides should prevent other vehicles from crashing into them and causing additional road hazards.
10. The use of flares, reflectors and appropriate warning devices to draw attention to broken down vehicles on the roadways should be strictly enforced. Such broken down vehicles without the warning devices should be towed away at the owner's expense. This measure should generate jobs to registered towing companies that could spring up in the local areas. I am convinced that some of these suggestions are probably in the works. If that is the case then by reiterating them here should place additional emphasis on the need to implement them without delay because the safety of all Ghanaian road users is at grave risk. The safety of all road travelers is the concern of most Ghanaians and through this article, it is hoped that the government and people of Ghana will be sensitized enough to put this issue on the front burner of the national agenda. Excessive speeding is NOT an indication of one's prowess at driving. No, one is not considered a great driver because one speeds excessively. Rather excessive speeding is an indicator that the individual is a wanton destroyer of life and property. Carelessness on the road is nothing to brag about. For instance, it is absolutely immoral, wicked and inhuman for any truck driver, be it a timber truck or tanker driver to brag about the number of vehicles that he/she succeeded in driving off the road. In our country, the loss of life of one individual could spell the end of tens of other people because of our extended system of dependency. It is time all road users worked hard to reduce the high incidence of road fatalities in Ghana. We must curb excessive speeding, abject disregard for life and callousness on the roadways of Ghana.
Saving the lives of fellow Ghanaians and all who live in Ghana is the priority of some us and I call for your support and every measure we can collectively use to help mother Ghana. Long live Ghana; long live the people of Ghana. Dr. Frank Essien New York, USA Views expressed by the author(s) do not necessarily reflect those of GhanaHomePage.