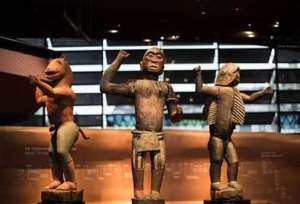 Royal statues, Dahomey, Republic of Benin, previously in Musée du Quai Branly, Paris, that France returned to the Republic of Benin. Left, King Glélé, half-lion, half-man. Centre, King Ghézo, half-bird, half-man. Right, King Béhanzin, half-shark, half-man.
'One of the most noble incarnations of a people's genius is its cultural heritage, built up over the centuries by the work of its architects, sculptors, painters, engravers, goldsmiths and all the creators of forms, who have contrived to give tangible expression to the many-sided beauty and uniqueness of that genius.
The vicissitudes of history have nevertheless robbed many peoples of a priceless portion of this inheritance in which their enduring identity finds its embodiment.
The peoples who were victims of this plunder, sometimes for hundreds of years, have not only been despoiled of irreplaceable masterpieces but also robbed of a memory which would doubtless have helped them to greater self-knowledge and would certainly have enabled others to understand them better.
The men and women of these countries have the right to recover these cultural assets which are part of their being.'
A.-M. M'Bow, former Director-General, UNESCO, Paris. (1)
I am pleased to talk about restitution today, 17 November 2021. Thursday 10 November was the most exciting day I have experienced for a very long time. On that day, 26 Royal Dahomean treasures arrived in Cotonou from Paris to be welcomed with song, dance, and tears of joy by crowds of the people of the Republic of Benin who have been waiting for more than 130 years to see their precious treasures that were stolen in 1892 by General Alfred-Amédée Dodds and his looting French army; this army conquered and subjugated the Dahomean people and sent their valiant king Béhanzin to exile in Martinique. (2) I have for decades been dreaming about one day seeing an imperialist power return to an African people the thousands of artefacts they stole with violence during their colonial hegemony. But I never really believed that I would see or experience such a scene in my lifetime.
Regrettably, some of the great persons who started agitating for restitution, such as the late Professor Folarin Shyllon, Nigeria, are no longer with us to share this joy. (3)
We propose the UNITED NATIONS/UNESCO declare 10 November World Restitution Day.
For more than 130 years, the Belgian, British, Dutch, French, and German governments had refused to return or even discuss the restitution of looted artefacts with African claimants. Even the word 'restitution' had acquired a dangerous meaning for certain Western Museum directors who preferred to talk about' return' if they agreed at all to discuss the issue.
African demands for restitution have always existed. The Oba of Benin in Nigeria, Akenzua II, for example, requested in 1936 and got one regalia back, but this did not signal a change of attitude of the colonial masters. Bernie Grant, a Labour MP of Caribbean descent (Guyana, MP 1987-2000), made pleas on behalf of the Oba of Benin in the British Parliament but to no avail. After independence in 1960, Nigerian governments, like other African governments, made demands for restitution but with no success.
In 1974, Ghana made claims to restitution the Asante golden artefacts the British Army had stolen in 1874 when they invaded and burnt Kumasi, the Asante capital.
The United Nations and UNESCO have since 1972 been issuing every second year a Resolution on the Return or Restitution of Cultural Property to the Countries of Origin, which urges the former colonial States to return to their former colonies artefacts they took away during the colonial period. The Western States have regularly ignored the injunction of the world body and continued their illegal possession of the cultural artefacts of their former colonies. This outlaw behaviour of Western States does not seem to bother them.
In 1977 Nigeria requested from Britain the famous ivory hip-mask of Queen-mother Idia from the British Museum for the pan- African festival Festac77. After asking for 2million pounds, Britain declined to lend the mask to Nigeria. The useless arguments advanced by Britain, such as the climatic difference between the British Museum and Nigeria, infuriated all Africans.
Ethiopia has constantly requested the restitution of the Maqdala treasures looted by the British army in their notorious invasion of Maqdala in 1868. Britain has not yet accepted Egypt's s claim to the Rosetta Stone. Germany has not admitted to restitute Nefertiti's bust to Egypt. The bust was brought to Germany in 1913 by Ludwig Borchardt but only displayed in 1923 and now in the Neues Museum, Berlin.
Again, in March 2000, the late Oba of Benin, Oba Erediauwa, sent his brother, Prince Edun Akenzua, to submit a plea to the British Parliament to return the thousands Benin bronzes the British Army had looted in the notorious 1897 punitive invasion of Benin. The petition has become known in history as Appendix 21 and is in the official records of the British Parliament, Hansard Reports. Nothing came out of the Benin plea.
From 2000 on, several demands were made by Africans for restitution. The Europeans never considered these various demands seriously or mostly denied they had ever been made or just kept silent.
In 2002, 18 major western museums, excluding the British Museums, felt bold enough to issue the discredited Declaration on the Importance and Value of the Universal Museums. By this Declaration, they sought to disarm those with claims to restitution, especially Greece with its claims to the Parthenon Marbles.
Philippe de Montebello, then director of the Metropolitan Museum of Fine Arts, New York, Neal MacGregor, then Director of the British Museum, London, and James Cuno, then Director of the Art Institute of Chicago, were the high priests of the universalists. Through their actions and writings, they defended the right of the Western museums to hold onto looted African artifacts.
In 2007 the Ethnology Museum, now World Museum, Vienna, organized a magnificent exhibition, Benin Kings and Rituals, Court Arts from Nigeria, which traveled later to Paris, Berlin, and Chicago. A symposium organized in connection with the exhibition discussed the question of restitution. The Benin Royal delegation stated that it would be satisfied if each museum present were to return one Benin artifact. That request was rejected by the Western museums who did not seem to recognize this historical opportunity to solve the issue of the Benin artefacts.
By 2007 restitution had become a topic no one could easily ignore, and a lot of publications had been produced on the topic which had also been adopted by mass media and the popular press everywhere. Museums and governments had also got used to it and were not unnecessarily worried by it; they could not ignore restitution.
On this background, came the famous Declaration of the young and recently elected French President, Emmanuel Macron on 28 November 2017, before a large crowd of students at Ouagadougou University that:
I cannot accept that a large part of several African countries' cultural heritage be kept in France. There are historical explanations for it, but there is no valid, lasting, and unconditional justification. African heritage cannot solely exist in private collections and European museums. African heritage must be highlighted in Paris but also in Dakar, Lagos, and Cotonou; this will be one of my priorities. Within five years I want the conditions to exist for temporary or permanent restitution of African heritage to Africa. (4)
The Ouagadougou declaration fell like a bomb that shook all western museums and institutions that kept looted artefacts. President Macron had underlined his determination by declaring it was one of his priorities to establish within the following 5 years the conditions for returning African artefacts as permanent or temporary restitution.
Macron's Declaration was welcomed in Africa but in the western world, it had the effect of a tremendous devastating detonation.
But Macron did not rest with his Declaration. He commissioned Felwine Sarr, a Senegalese economist and professor of economics at Université Gaston Berger, Saints -Louis, Senegal and Bénédicte Savoy, a French art historian, and professor at the Technical University, Berlin and Collège de France, Paris, to prepare a report on the restitution of African artefacts in French museums and make concrete propositions.
The Sarr-Savoy report, The Restitution of African Cultural Heritage. Toward a New Relational Ethics,2018, prepared in consultation with French and non-French experts on restitution, recommended that African artefacts that had been looted with violence in the colonial period or had been taken without the consent of the African owners should be restituted. (5) Macron accepted the report and decided to return 26 artefacts to the Benin Republic. The report submitted in 2018 created effects we are still witnessing.
Western States and their museums reacted differently to the Sarr-Savoy recommendations. After hesitations and issuing of Guidelines on Dealing with Collections from Colonial Contexts (2019), Germany finally decided to restitute 1130 Benin bronzes to Nigeria starting in 2022. (6)
The Dutch started the process of modifying their laws to facilitate restitution. (7) The Dutch National Museum of World Cultures, which is composed of four museums has about 70,000 objects from Africa. There are other museums and institutions in the Netherlands- missionary, municipal, or university that hold African artefacts.
The World Museum, Vienna holds 37,000 (200 from Benin) but so far, we do not know whether Austria is going to restitute looted African artefacts or not as there has been no definitive statement on the issue by Austrian authorities. The Minister for Foreign Affairs is said to be in the process of developing a new Africa strategy for Africa and a motion for a resolution proposed by the NEOS party would request the Foreign Minister to include restitution of African artefacts of problematic or unexplained provenance.
The Belgians who kept quiet for a long time, have finally decided to restitute to the Democratic Republic of Congo artefacts that had been looted under the colonial regime. (8) During a visit to the Democratic Republic, State Secretary for Scientific Policy, Recovery Program and Strategic Investments, Thomas Dermine, reaffirmed the determination of Belgium to restitute looted Congolese artefacts:
"The objects illegally acquired by our ancestors do not belong to us. They belong to the Congolese people. Full stop. We must adopt a position from a Congolese perspective: to reconstitute the cultural identity of a people, a perspective that has been deprived for too long of the memory, creativity, and spirituality of its ancestors."
The British Museum holds more than nine hundred Benin bronzes and other precious African artefacts, such as Asante gold and Ethiopian gold, silver, and manuscripts, but refuses to return any artefact and is willing to consider loans to the owners. (9)
At the height of the Black Lives Matters demonstrations, the British government instructed museums not to move any statues or give away artefacts. They should keep them and explain their role in the glorious history of the British empire. (10)
The Black Lives Matter movement had laid bare the links between slavery, colonialism, and the restitution question.
The Arts Council of England (ACE)announced on Monday 16 March 2020
that it had contracted an expert to prepare guidelines for handling colonial artefacts following the issuance of similar documents in Germany and the other European States, but that document that was to be ready in autumn 2020 was never published, and no information has been provided on the absence of the publication.
Every government seems to accept now that the time has come to return artworks stolen under the colonial regime, but the British Government and the British Museum act as if they were living in another world. The fear of losing the Parthenon Marbles is often advanced as an explanation for this reactionary position. But all public opinion polls have shown that the British public is overwhelmingly in favour of returning the Parthenon Marbles to Athens.
It was a British Prime Minister, Harold Macmillan, who on 3 February 1960 told the recalcitrant apartheid South African government about the wave of nationalism, the wind of change, blowing across the African continent. Who will tell the British Government and the British Museum about the strong currents that are now blowing in Africa, Europe, America, and the rest of the world for the restitution of looted cultural artefacts? Do they realize that restitution is the logical continuation of the decolonization process?
HOW SHOULD AFRICANS ASSESS ALL THIS?
The promise made by the French President in 2018 to restitute twenty-six objects to Benin could only be fulfilled on 10 November 2021, accompanied by very moving ceremonies in Paris and Cotonou. Macron's ambition had been obstructed by the principle of inalienability in French law. I commend highly both Macron and President Talon of Benin for their roles in the restitution of artefacts to the Republic of Benin.
Let us make no mistake. There is now unprecedented support and sympathy for restitution in the world, even in Britain, despite the positions of the British Museum, Victoria and Albert Museum, and the British government. Institutions such as Jesus College, Cambridge, and Aberdeen University have returned Benin artefacts, and others have declared their intention of doing so. Many museums have tried to improve their rules of procedure to facilitate restitution. In the United States of America, institutions are busy examining their stock of African artefacts. The Smithsonian's National Museum of African Art has removed its display of Benin artefacts derived from the 1897 loot and is preparing to restitute them.
The US Homeland Security has returned nine hundred artefacts seized in illegal shipment to Mali. These customs/police returns do not fall within our definition of restitution but show goodwill on the part of the United States.
The Metropolitan Museum of Fine Arts, New York, has returned 2 Benin artefacts and an Ife artefact to Nigeria. What that museum has done is to offer two Benin artefacts and an Ife sculpture as objects stolen after the 1970 UNESCO Convention but remain silent on its large number of looted Benin artefacts,180, that derive directly from the 1897 loot. This is a false distinction because the 2 Benin artefacts the Metropolitan Museum has returned also derive directly from the notorious 1897 loot. They had been sold by the British Museum to Nigeria, then stolen from Nigeria, and then bought on the free market by the American museum, advised by the British Museum. All knew very well that they were stolen items. The museum thus earns a good reputation without sacrificing much. (11)
These returns of artefacts to Africa are all very well. But we should be vigilant and avoid any complacency. We are far from receiving the restitution of artefacts we demanded. Take, for example, the request by the Republic of Benin. Benin requested in 2016 the restitution of 5000 artefacts looted by the French in 1892 and received on 10 November 26 precious treasures. At the rate of 26 objects per year, how long will it take to return 5000 items? 200 years? Patrice Talon, President of the Republic of Benin, made it clear to Emmanuel Macron after the Culture Ministers of France and Benin had signed an agreement transferring 26 objects that he was not satisfied with the number of items restituted.
'But, Mr. President, Dear President, you will agree with me that the restitution of the twenty-six (26) works that we are celebrating today is but only a step in the ambitious process of equity and restitution of memorial objects exhorted from the kingdoms of the territory of Benin by France.
Mr. President, it is regrettable that this act of restitution, however appreciable, is not sufficient to give us complete satisfaction.
Indeed, how can you expect that with my departure with the 26 works, that my satisfaction would be complete, while the God Gou, emblematic work that represents the god of metals and metallurgy, the Fa tablet, mythical work of divination of the celebrated soothsayer Guèdègbé and a lot of other works, continue to be detained here in France to the great detriment of the actual owners?
But is it subsequently not allowed to hope? Yes, Mr. President.
The hope of returning to our country of those works too that I have mentioned and many others, the hope of their recovery to our country is henceforth allowed thanks to you. It is extraordinary.' (12)
President Macron was aware of the inadequacy of twenty-six (26) objects and blamed the French rule against inalienability. Still, he mentioned a proposal for general law, loi-cadre, which would facilitate more restitutions and dispense with the requirement for specific legislation anytime there is a need for restitution. The French Senate will discuss the draft law on 15 December 2021. France is returning twenty-eight (28) looted artefacts to Benin, Senegal, and Côte d'Ivoire. At the rate of twenty-eight (28) objects per year, how long will it take France to return the 90,000 looted African objects in France? Three thousand two hundred fourteen (3,214) years will be necessary.
If we turn to the German promise to return in 1130 Benin bronzes to Nigeria, we realize that they are not returning all the looted Benin artefacts in Germany. The German Contact Point for Collections from Colonial Contexts Publishes an Inventory of Benin Bronzes in Museums in Germany lists 1163 Benin artefacts. (13)
The Nigerians may have agreed to leave some Benin objects in Germany following their signing of a Memorandum of Understanding with Germany on 13 October 2021. Still, they are not showing anybody the text of the agreement. It is evident from the German government's decision of 29 April 2021, not all German institutions that hold Benin artefacts agreed to the principles enunciated in the statement.
Moreover, Germany's decision to return Benin bronzes relates only to Benin artefacts. What about artefacts from Angola, Burundi, Cameroon, Ethiopia, Ghana, Rwanda, Tanzania, etc? These must also be restituted. The struggle for restitution of looted African artefacts is not limited to Benin artefacts, even though these are the best-known examples of flagrant European looting and illegal possession of African artefacts. Besides Benin bronzes, we still have Asante gold, Ethiopian gold, silver, and manuscripts in Western museums.
We should resist attempts to appease us with token restitution, return of a few artefacts when the Western museums have been holding thousands of our artefacts for more than one hundred and thirty years - Musée du Quai Branly, France has 75,000, British Museum, 70,000, Africa Museum, Tervuren, Belgium 180,000. The racist arguments of the former colonial masters appear in their present statements even when they accept restitution in principle.
Arguments for the need for provenance research appear to be delaying tactics. What have those western institutions been doing in the last hundred and thirty years? Do they need the physical objects for their research? They could use replicas, photos, and digital versions of the items for their research which is mainly based on examination of documentation available in European institutions. Perhaps we could avoid all this if African governments could finance research on the restitution of looted African artifacts.
Western institutions are now very keen to offer training facilities and scholarships to young Africans. Cooperation and circulation of artefacts have become a common vocabulary of Western museums and institutions. This is all part of a 'charm offensive' to ensure continued access to our artefacts. They should first transfer the legal rights in the looted artefacts before consideration of loans and circulation of objects can be appropriately discussed. We should aim at a situation where there will be no stolen African artefacts in western museums but only loaned items.
The African States could prepare lists of their lost treasures as we have been demanding for decades. The Cairo Conference on Restitution, 2010, requested such lists.
The African States could send formal letters to Western institutions holding looted artefacts, requesting the restitution of their stolen treasures as Nigeria has recently done by a letter to the British Museum. We would thereby destroy the old weak but popular argument advanced by Western institutions that nobody has asked them to return the stolen treasure.
Africans must acknowledge the contributions of NGOs such as postkolonial berlin, Germany, cran, France, ligali, United Kingdom, afromet, Ethiopia/UK in making many museums and cultural institutions and governments take the fight seriously restitution. They brought pressure on governments that did not even want to discuss colonialism or to restitute looted artefacts.
Pan-African and African solidarity organizations such as AFRIMUHERE afrimuhere (African Museums and Heritage Restitution) should be utilized to achieve maximum cooperation and coordination between various African efforts in the area of culture and restitution. (14) African Unity has been sorely lacking in the struggle for restitution of looted African artefacts. The mothers and fathers of African Independence would be amazed to recognize this situation.
The African States and supporters should press for UNESCO/United Nations to establish 10 November, the day on which restituted artefacts reached the Republic of Benin as World Restitution Day. On Restitution Day:
-Member States shall report annually on their activities on the restitution of artefacts, whether as sending or receiving States. They shall report on their activities in educating their peoples regarding the history of restitution and restitution as an act of reconciliation and justice among nations and peoples.
-Inter-governmental organizations shall also report on their efforts on restitution, especially regarding the education of the youth and the public as a contributory factor of peace. They shall also encourage restitution activities in cultural fields such as dance, music, cinema, and literature.
-Non-governmental organizations shall also submit reports of their restitution activities, especially regarding the history of NGOs in this area and their future projects.
Africans should finally show that we have learned the lessons of the last five hundred years.
"The concerned museums and institutions in the West are urged to facilitate and cooperate with Africa in the ongoing repatriation and restitution efforts. The use of pseudo-measures and terms such as 'Digital Repatriation' and 'Permanent Loans' further infringes on the do no harm philosophy and sphere standards of development, thus delaying the closure of this sad chapter of our history," President Mnangagwa. (15)
The reason for the reluctance of former colonial powers to restitute looted African artefacts may well be a deep-seated unwillingness or inability to recognize the end of colonialism. The capture of African artefacts was inextricably linked to colonialism and racism. The desire to demonstrate the inferiority of the subjugated races was a prime motive for seizing their cultural artefacts and the human remains of their dead members. These were used in pseudo-science to establish the presumed inferiority both mentally and physically. The restitution of human remains and cultural artefacts would signify the final acceptance of the equality of all races and ethnic groups and the absence of any justification for their detention. Are all European nations prepared for this conclusion? This would also imply the internal necessity of treating all citizens of the European States irrespective of their African origins. Are the concerned European countries willing to accept this logical consequence of decolonization?
'The question of the meaning of the 'Benin bronzes' or 'Elgin Marbles' in London – 1900 or 2000 – is inseparable from the issue of British attitudes towards Africa and the Orient as sites, once for direct military and political colonisation, and now for their post-imperial economic exploitation and indirect manipulation. To return them would imply the belief, on the part of the British authorities, that the peoples of those parts of the world were now capable of competently looking after artefacts that were removed because the local inhabitants were unfit, because of the 'degeneration' of their societies, to act as their curators. Their return would also imply admission of their illegal possession by the British. Both implications remain unthinkable because post-imperial racism continues to be a highly significant aspect of British foreign policy. Though British society may be relatively 'multicultural' now, its ruling elite, like that of the US, is still predominantly white, middle-class and male.' Jonathan Harris. (16)
Kwame Opoku.
*Revised text of an address delivered at the launching of AFRIMUHERE,17 November 2021.
NOTES
1.A. M. M'Bow, A Plea for the Return of an Irreplaceable Cultural Heritage to Those Who Created It, p.70, Lyndel V. Prott (ed.) Witnesses to History, A Compendium of Documents and Writings on the Return of Cultural Objects, UNESCO Publishing 2009. M'Bow: A plea for the return of an irreplaceable cultural heritage to ...
https://translanth.hypotheses.org/ueber/mbow
[PDF] A Plea for the Return of an Irreplaceable Cultural Heritage to those ...
www.unesco.org/culture/laws/pdf/PealforReturn_DG_1978.pdf
2. The East African, France hands back 26 treasures looted from Benin
Global Times, Tears, dance as Benin welcomes back looted treasures from France https://www.globaltimes.cn/page/202111/1238738.shtml
An emotional moment' as Benin welcomes back looted treasures from France https://www.france24.com/en/africa/20211110-an-emotional-moment-as-benin-welcomes-back-looted-treasures-from-france
A testimony that we existed': Benin receives looted art from Francehttps://www.reuters.com/lifestyle/a-testimony-that-we-existed-benin-receives-looted-art-france-2021-11-10/
Elation on the streets of Benin as France returns stolen bronze treasures https://www.euronews.com/culture/2021/11/11/elation-on-the-streets-of-benin-as-france-returns-stolen-bronze-treasures
3. UNESCO, A tribute to the late Professor Folarin Olawale Shyllon, who fought for over 50 years against illicit trafficking of cultural proper
https://en.unesco.org/news/tribute-late-professor-folarin-olawale-shyllon-who-fought-over-50-years-against-illicit
https://en.unesco.org/news/tribute-late-professor-folarin-olawale-shyllon-who-fought-over-50-years-against-illicit The Nigerian Lawyers, Professor Folarin Olawale Shyllon [1940 – 2021] – A Tribute https://thenigerialawyer.com/professor-folarin-olawale-shyllon-1940 2021-a-tribute/
Folarin Shyllon's research while affiliated with University of Ibadan and other places https://www.researchgate.net/scientific-contributions/Folarin-Shyllon-2040543230https://www.researchgate.net/scientific-contributions/Folarin-Shyllon-2040543230
4.'Je ne peux pas accepter qu'une large part du patrimoine culturel de plusieurs pays africains soit en France. Il y a des explications historiques à cela mais il n'y a pas de justification valable, durable et inconditionnelle, le patrimoine africain ne peut pas être uniquement dans des collections privées et des musées européens. Le patrimoine africain doit être mis en valeur à Paris mais aussi à Dakar, à Lagos, à Cotonou, ce sera une de mes priorités. Je veux que d'ici cinq ans les conditions soient réunies pour des restitutions temporaires ou définitives du patrimoine africain en Afrique'.
https://www.elysee.fr/en/emmanuel-macron/2017/11/28/emmanuel-macrons-speech-at-the-university-of-ouagadougou
5. The Restitution of African Cultural Heritage. Toward a New Relational Ethics
http://restitutionreport2018.com/sarr_savoy_en.pdf
6. K. Opoku, Berlin Decision on Benin Restitution: Germany on The Way to Restitution of Looted African Artefacts
https://groups.google.com/g/provenance_and_museums/c/K7PhujY3vXw
https://www.modernghana.com/news/1079313/berlin-decision-on-benin-restitution-germany-on.html
7. K. Opoku, Dutch Are Taking Giant Steps Towards Restitution of Looted Artefacts
https://www.msn-museumsecuritynetwork.org/2020/11/16/dutch-are-taking-giant-steps-towards-restitution-of-looted-artefacts/
. Brusselstimes, Belgium confirms promise to return looted object during Congo visit
Belgium confirms promise to return looted object during Congo visit (brusselstimes.com)
9. https://www.artnews.com/art-news/news/british-museums-black-lives-matter-statements-controversy-1202690203/
https://news.artnet.com/art-world/british-museum-black-lives-matter-1882296
10. New legal protection for England's heritage
https://www.gov.uk/government/news/new-legal-protection-for-england-s-heritage
BBC News, UK should 'retain and explain' controversial statues, says minister
https://www.bbc.com/news/uk-politics-54299049
Keep problematic monuments and 'explain them' UK government to tell cultural leaders
https://www.theartnewspaper.com/2021/02/15/keep-problematic-monuments-and-explain-them-uk-government-to-tell-cultural-leaders
11. https://www.nytimes.com/2021/06/09/arts/design/met-museum-benin-bronzes-nigeria.html
12. Mais, Monsieur le Président, cher Président, convenez avec moi, que la restitution de vingt-six (26) œuvres que nous consacrons aujourd'hui, n'est qu'une étape dans le processus ambitieux d'équité et de restitution des patrimoines mémoriels, extorqués jadis aux royaumes du territoire du Bénin, par la France.
https://presidence.bj/actualite/discours-interviews/255/allocution-patrice-talon-occasion-cceremonie-restitution-26-oeuvres-patrimoine-culturel-benin
13. German Contact Point for Collections from Colonial Contexts: Benin-Bronzes in Germany (cp3c.org)
14. https://sites.google.com/view/afrimuhere/home?authuser=5
.
15. International Conference on African Cultures in Harare, 23 November 2021.
16. Jonathan Harris, The New Art History – A critical Introduction, Routledge, London, 2001, p. 275.
LIST OF LOOTED AFRICAN RTEFACTS IN MUSÉE DU QUAI BRANLY- JACQUES CHIRAC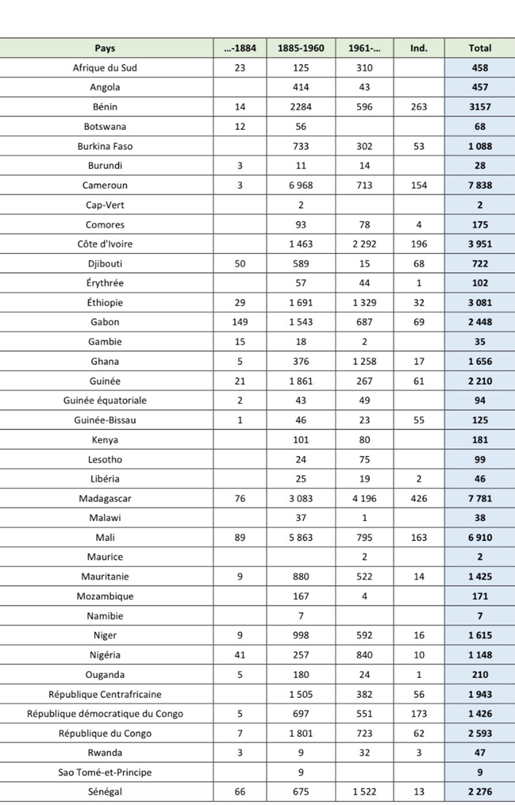 IMAGES --ARE WE RECEIVING THE RESTITUTION WE SEEK?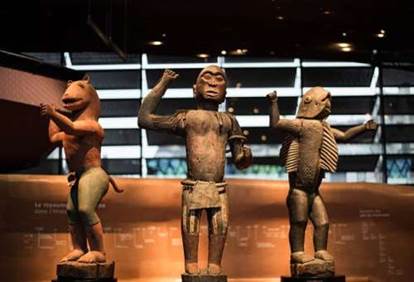 Royal statues, Dahomey, Republic of Benin, previously in Musée du Quai Branly, Paris, that France returned to the Republic of Benin. Left, King Glélé, half-lion, half-man. Centre, King Ghézo, half-bird, half-man. Right, King Béhanzin, half-shark, half-man.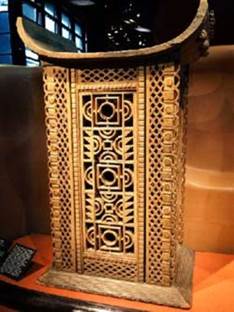 Throne of King Ghézo, Abomey, Republic of Benin, previously in Musée du Quai Branly, Paris, that France returned to the Republic of Benin.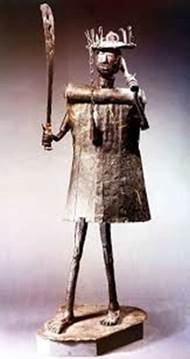 Among the impressive African objects in the Pavillon des Sessions, Louvre, is this sculpture of Gou, God of metals that the French looted in 1892 from the former French colony, Dahomey, now the Republic of Benin. This sculpture is not on the list of artefacts that the French returned to the Benin Republic. Restitution will not be complete without Gou.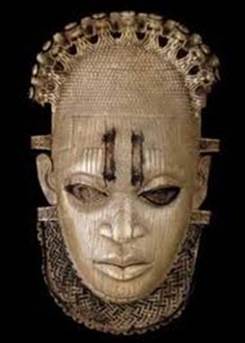 Queen-Mother Idia, Benin, Nigeria, now in British Museum, London, United Kingdom. Will she finally be allowed to return home to Benin City from British exile since 1897? Will the British play the same game as they played when Nigeria asked for the sculpture for FESTAC 77?
Gold mask, 20 cm in height, weighing 1.36 kg of pure gold, seized by the British from Kumasi, Ghana, in 1874 and now in the Wallace Collection, London, United Kingdom. Would this gold piece be returned soon to Kumasi, Ghana?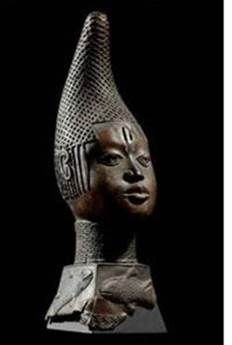 Queen-mother, iyoba Idia, Benin, Nigeria, now in Humboldt Forum, Berlin, Germany. Will the Queen-Mother also be finally going home to Benin City?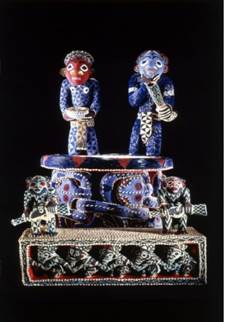 Mandu yenu, Bamoun, Cameroun now in Humboldt Forum, Berlin. Did King Njoya, Kingdom of Bamoun give the original throne, a sacred symbol of his people to the German Emperor Wilhelm II, as a gift and then make a copy for his kingdom?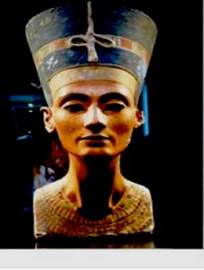 Nefertiti, Egypt, now in Neues Museum, Berlin, Germany. Would she be allowed to leave Germany and return home to Egypt?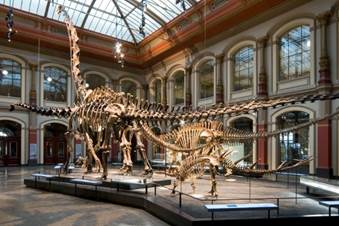 Dinosaur, Tanzania, now in Natural History Museum, Berlin. Will this impressive figure soon return to Tanzania?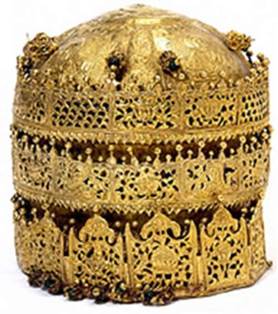 Crown of Tewodros II, Ethiopia, the Victoria and Albert Museum, London, United Kingdom. Looted during the invasion of Magdala in 1868 by a British Punitive Expedition army. The crown is labeled at the Victoria and Albert as the "Crown of the Archbishop Abune Selam." With typical colonialist and imperialist arrogance, this 18-karat gold crown was described as "barbaric" but kept by the British. Will they ever return it to the owners in Ethiopia?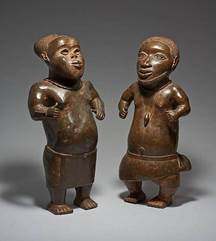 Court dwarfs, Benin, Nigeria, now in World Museum, Vienna, Austria.
Will they soon return home to Benin City?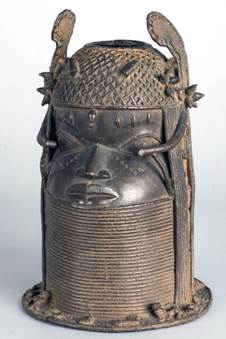 Commemorative head of an Oba, Benin, Nigeria now at MARKK,
Museum am Rothenbaum. Kulturen und Künste der Welt (MARKK):
Hamburg, Germany. Will this exquisite sculpture return home to Benin City or remain in exile in Hamburg City?