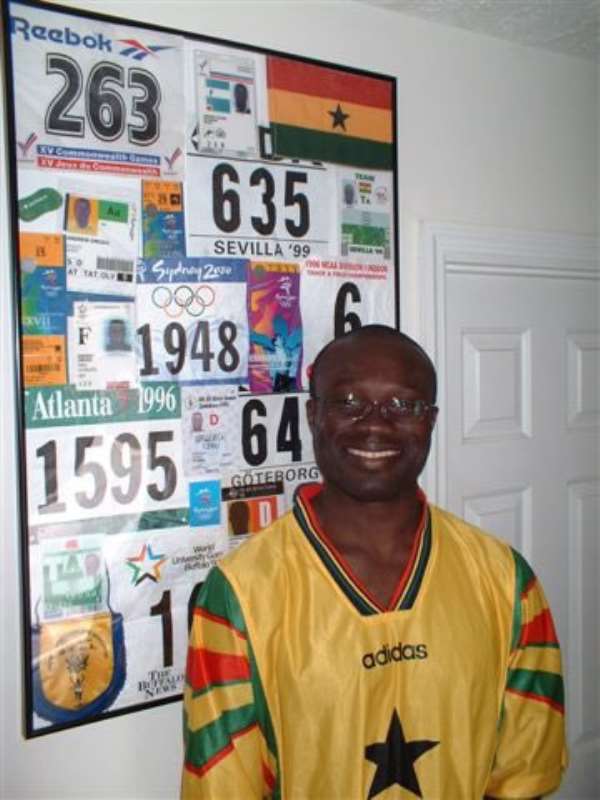 Like many Ghanaians both at home and abroad, I could not believe my eyes or ears when I read and heard that the Black Stars had lost to Rwanda. Rwan....... WHO? In football? That is impossible most of us said but these are the facts surrounding sports in Ghana today: 1) Too many Monday morning coaches 2) Objectively predicting our true potential is not a strength 3) Therefore, we always over predict 4) Why? Because we prefer to live on past glories 5) As a result, we refuse to accept and appreciate the depth of our current crisis. 6) And so, we look for quick fixes to problems that were years in the making. 7) Each time we lose, "The coach must go". 8) Because there is no working long term comprehensive plan for revival. 9) Which means realistic performance goals and assessments are missing. 10) Therefore, accountability across the board is also missing, i.e., from sportsmen/women, coaches, administrators, the public, private sector and government. The result............Rwanda 1-- Ghana 0 It boggles my mind to think that many Ghanaians believe we can somewhere, somehow find a coach who will miraculously solve all our problems. Whether by choice or ignorance, we rarely acknowledge it as an intricate dynamic chaos that cannot be solved by one person or remedied in an instant. Have we forgotten how long ago it was that Ghana last won a major continental Championship at the senior level i.e., African Cup of Nations? It has been a while, exactly 21 years to be precise. Obviously some key elements are missing since the glory days of the late 70s and early 80s, and yet we expect everything to turn around within a year? Correct identification of the problem(s), a tedious and complicated process, must precede effective problem solving. We may think we know what the issues are but many of the so-called solutions have failed to work. The truth is, sport in Ghana is entangled in a myriad of problems and we seem to have no idea which end is what, i.e., cause and effect. Some matters seem to be a priority because they are the most obvious, but have we bothered to systematically assess underlying, often hidden contributing factors? For instance coaches and sportsmen/women are frequently blamed for poor performance, but comprehensive assessments of why performance is poor are rarely carried out. Because problems are often inter-related, proposed solutions should also be multi-pronged to address that inter-relatedness. Solitary and often cosmetic quick-fixes have not brought us any closer to a victory.
Let me elaborate with specific ( including past) examples from athletics but relevant to other sports. Sportsmen/women complain that the lack of support and resources are "killing" their motivation and the sport. Yet when they are in a position to help through donations or by participating in decision-making processes to institute changes, some forgo the opportunity out of malice due to past abuses suffered under officials. For others, the stress of fighting to the point of psychological, physical and emotional exhaustion as they strive for selection onto national teams leaves them apathetic about the ultimate goal of representing the nation well.
Some coaches complain that the sportsmen/women do not respect them and are unwilling to give their best when called upon. Yet they refuse to acknowledge blunders (selection, coaching strategy, etc) and other psychological abuses that they may have purposefully or inadvertently committed against individual sportsmen/women. Rather than seeking to repair damaged relationships with their athletes, some coaches abuse their position and use team resources for personal gain.
Administrators accuse coaches and sportsmen/women of not delivering as expected. They demand medals, "Get Ghana Gold" they say. Yet they seem to forget that they have not managed to solicit enough funds or other resources to help prepare the athletes and coaches to compete at the championship level. When they do provide aid, it is often too little, too late.
Government claims money is being wasted on sports because teams do not deliver, however, it fails to acknowledge that sport is perpetually under funded, which makes winning championships difficult indeed. Often, approval of budgets and timely release of finances for sporting assignments is all but missing. But who can blame the government for sometimes stalling approval of questionable budgets or for dragging its feet in sponsoring teams/groups/individuals given the ongoing cycle of failure?
Money seems to be at the root of our dilemma and for a while we have claimed lack of financial support as the bottleneck, which is true to an extent. Our facilities need change; nowhere is that more obvious than athletics i.e., track and field (tartan tracks). But in the case of the Black stars, at least this time around, there was an announcement before the game that the bonuses had been released and some sponsors chipped in with substantial supplementary incentives. The resulting score suggests that money was not the culprit this time. In fact, money may not ever be the primary impediment of success for sports in Ghana. Lack of accountability, trust, and fairness have more likely landed us where we are as a sporting nation today! Therefore, for many years now, we may have been treating the symptoms but not the disease.
I do not have all the answers for Ghana football but at least some of the fundamental changes instituted within athletics could provide some insight. For the past year and half athletics has been addressing some of its problems with the help of the National Sports Council (Dr Owusu Ansah). The athletes have stepped up to the plate to work with the authorities and this has produced verifiable positive results. All concerned parties (waiting on the government) within athletics have had to set aside their individual agendas and work together as a team towards the long term viability of the sport.
The approach adopted by athletics may sound like a drop in the bucket given football's crisis but it only takes one step to begin to change direction. The key lies in a sense of commitment, self sacrifice and the will to accept responsibility when things go wrong. This attitude must be accepted by all the persons involved in the sport i.e. sportsmen/women, coaches, officials and administrators for any changes to be effective and long lasting. We must appreciate what each party can bring to the table and the contributing parties must have a thorough understanding of each other, be open in their dealings, and have a genuine desire for change and accountability. The habit of passing around blame must cease.
Perhaps a first step is establishing progressive leadership within each of the relevant groups i.e. sportsmen/women, coaches/officials, administrators, media, private sector and the government. This will provide the foundation for meaningful systematic assessment at all levels. It will allow for creating solutions that tackle the problems on all levels. Finally, no matter how progressive a leader each group has, there will be no advancement unless the rank and file has confidence in and respect for respective leaders. Without that, there will be little or no desire to support the leader or his/her attempts at problem-solving.
This is not meant to be a criticism of any individual or group caught in this cycle of failure. On the contrary, I have already stated that the solution to our sporting problems transcend any one individual or group. We need to tackle this as a nation. The facts speak for themselves; performance is far below par. Do we as a group (each sport) and as a nation have the desire to change? You be the judge. Andrew Owusu Secretary, Ghana Athletes Association African Athletes Commission Member 2003 IAAF Athletes Commission Candidate