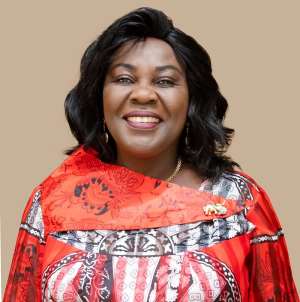 Hon. Cecilia Abena Dapaah
3G Media Group proudly announces that Hon. Cecilia Abena Dapaah to be Honored at the Special 10th Edition of 3G Awards in the USA. She is currently Ghana's Minister for Sanitation and Water Resources. She was also a former Minister of Aviation.3G Media Group ( www.3gmediausonline.com ) is presenting this year's Special edition which will be held on Saturday, November 6th, 2021. Time: Red Carpet - 7pm, Show Starts @ 9pm. Venue: Best Western Plus Robert Treat Hotel, 50 Park Place Newark, NJ 07102. https://www.rthotel.com . 3G is initials for God, Global & Giving. The event dubbed; "A Night of Heroes" recognizes the sacrifice and dedication of the leading trailblazers of the greater Ghanaian/African and Global communities.
Philadelphia-based Rosette Multi Service LLC is the parent company of 3G Media Group and its Chief Executive Officer, an American is Evangelist Charles Nimmo Ntiamoah-Mensah aka Mr. CNN. US based Media Mogul. The event is also on the heels of the media personality cum Evangelist celebrating multi-anniversaries code named; 21-13-12-10-1; 21 years in Media/Showbiz, 13 years of publishing the 3G Magazine 12 years of organizing the 3G Awards, 10 years of operating the Rosette's Multi-Service and Food Supermarket, 1-year - topping it first anniversary of hosting "The CUMIEES Show" on 3GTV which is shown live on Facebook.com. CUMIEES Stands for; Captivating, Uplifting, Motivating, Empowering & Exalting our Savior Through Worship.
Over the 12 years, honorees have included Hon. Kennedy Agyapong, Abraham Attah (Hollywood Actor), Azuma Nelson, Boxing Legend, Michael Spinks, Boxing Legend, Rev. Osei Kofi, Ibrahim Sunday, Kuuku Dadzie (Soccer Legends, Akwasi Appiah (Former Coach), Asamoah Gyan (Captain GH Black Stars), Captain Solomon Quainoo of Emirate Airlines, Hon. Samuel Amoako, Former Consul General, Ruth-Hassell Thompson, Former Senator of Mount Vernon, New York, Kofi Adoma Nwanwani (Kofi TV), Emelia Brobbey (Actress) & Many others.
Hon. Dapaah is a Ghanaian Politician, member of the New Patriotic Party and a former Member of Parliament for the Bantama constituency. A former Development Worker by profession and a Former Special Assistant to President John Kufour. In 2001. She was appointed the Chairperson of the Board of Ghana Cocoa Processing Company. She was moved from the board in 2005, and made the Deputy Minister for Water Resources, Works and Housing. In 2007, she was made a substantive Minister till the end of the John Kufour administration in 2008. The Politician was elected as the Member of Parliament for the Bantama constituency of the Ashanti Region of Ghana for the first time in the 2004 Ghanaian general elections. She won on the ticket of the New Patriotic Party.
Hon. Dapaah was born on 27 November 1954 and hails from Mpasatia in the Ashanti Region. She attended the University of Ghana and graduated with a Bachelor of Arts degree in French and Linguistics in 1979. She holds a certificate in leadership from the Harvard Kennedy School, and a Postgraduate Certificate in International Development Studies from the University of Oslo.
Hon. Dapaah is married with one child and is a member of the Methodist Church.