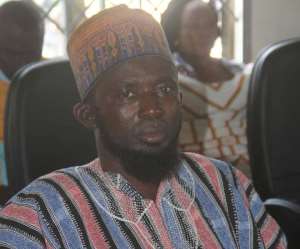 Mr. Atinga Yakubu Abagre, the President's nominee for Binduri District on Thursday, October 7 was the third to be disappointed in the Kusaug kingdom of the Upper East Region.
He was rejected by the Assembly members after failing to meet the two-thirds majority mark needed to confirm his nomination.
Mr Ayinga had 10 YES votes representing 58.82% against 7 NO votes representing 41.18% out of the total 17 votes.
Similar fate visited the nominees for Garu and Tempane who were rejected by their respective Assemblymembers.
Meanwhile, three nominees were endorsed in the Kusaug area namely, Pusiga District, Bawku Municipal and Bawku West.
Ayinga Yakubu Abagre was the immediate past DCE for the area but was renominated by the President for a second term.
But earlier before the exercise, the Member of Parliament for the area and Deputy Minister for Works and Housing, Mr Abdulai Abanga called on the Assembly members to put aside their differences and confirm the nominee.
Unfortunately, that call fell on deaf ears as members rejected the nominee who is hoping for a second chance in 10 days time.